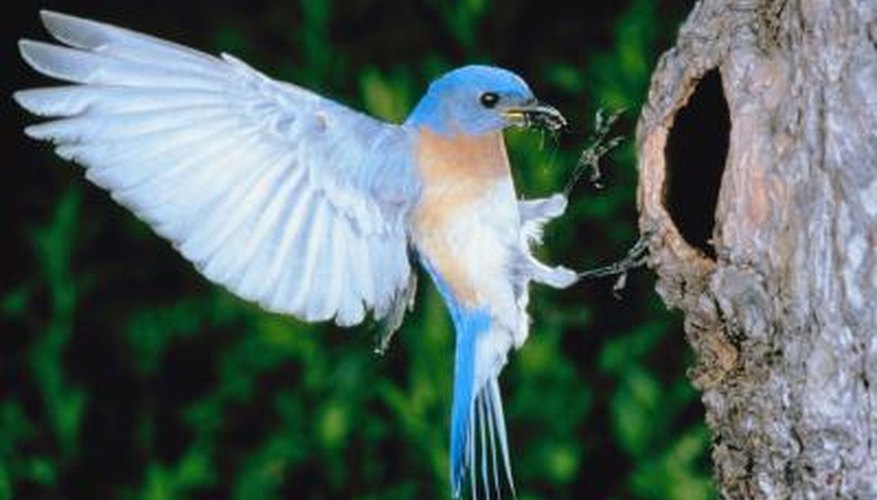 Get it right and you help to increase the depleted population of this colorful native bird. Get it wrong and you risk losing eggs and young birds to predators or exposure. Mounting a nest box effectively requires an understanding of bluebird habitat, predator risk and nesting competition. With the right information, you can provide the perfect nesting spot to attract bluebirds and help to replenish the species.
Step 1
Scout for a suitable location for nesting houses on your land. Choose areas with open low-level scrub or grass that provides an ideal line of sight for the bluebird to feed on insects. Check for nearby isolated trees to ensure adequate cover and perching.
Step 2
Drill a hole, centered and one-third down from the top of the back of a North American Bluebird Society-approved bluebird nesting house, using an electric drill. Drill a second hole in line with the first and one-third up from the bottom of the back of the nest box.
Step 3
Mark through each drill hole onto an 8-foot length of 1-inch smooth galvanized pipe. Position the marks centered on the pipe width and starting at two inches from one end of the pipe. Drill all the way through the pipe at each mark.
Step 4
Position the drilled galvanized pipe upright with one side of the drill holes facing away from the prevailing wind and direct sunlight. Insert the galvanized pipe to a depth of 24 inches into the ground, using a post driver.
Step 5
Line up the drill holes in the nesting house with the drill holes in the pipe that face away from the prevailing wind. Fasten and secure bolts through the drill holes in the back of the nesting house and into the corresponding drill holes in the pipe.
Step 6
Rub auto grease around the pole from the ground up to deter climbing predators. Staple a 2-foot length of hardware cloth around the nesting-house base to increase the predator deterrent, using a staple gun.
Step 7
Put up a second bluebird nesting house a minimum of five feet from the installed nest box if you spot tree swallows within the same vicinity, in order to prevent nesting competition. Position additional nesting houses at 100-, 150- or 300-yard intervals to attract Western, Eastern or Mountain bluebirds respectively, as recommended by the North American Bluebird Society.
Things You Will Need

Electric drill
8-foot length 1-inch smooth galvanized pipe
Post driver
Bolts
Auto grease
Hardware cloth
Staple gun