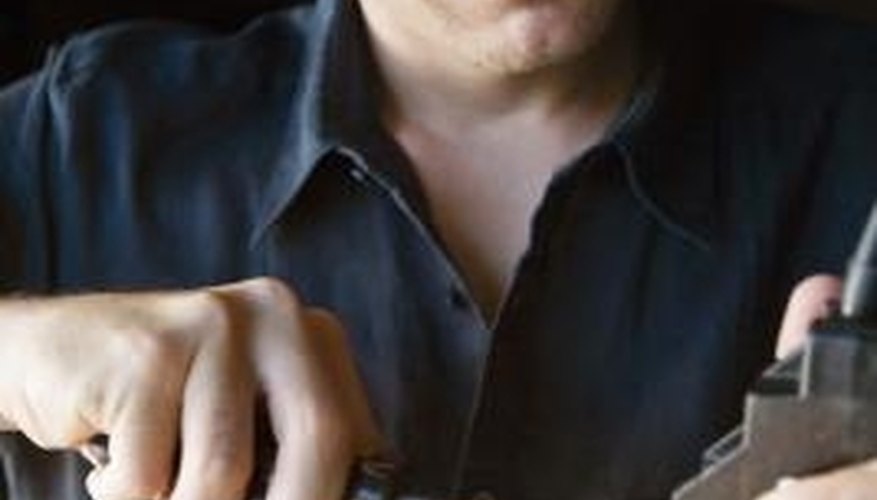 Sharpening some types of screwdrivers may be a difficult task, but one that can be sharpened easily is a flat head screwdriver. The blade of the flat head is straight across. It can become dull over time, and sharpening the blade can save you the cost of purchasing a new one.
Grind the tip of the screwdriver. Set the grinder wheel on a table, turn it on and place the screwdriver on the wheel.
Hold the tip of the screwdriver firmly against the grinder wheel and smooth out the tip. Move the blade around the wheel to duplicate the original angle. Pull the screwdriver away and check on the smoothness of the tip.
Remove the screwdriver from the grinder wheel once the tip is smooth and all the imperfections have disappeared. Wipe it clean with a rag to remove any debris and other leftover particles.
Set the screwdriver next to a grinding stone and hold the edge of the screwdriver perpendicular to the grinding stone. Grind the tip of the screwdriver against the grind stone and create a dull, flat tip on the blade. Move back and forth gently against the stone.
File the sides of the screwdriver with a nail file. Move the file back and forth over the tip and smooth off all of the marks from the grinder wheel and grinding stone. Test the screwdriver in a screw.
Things You Will Need

Grinder wheel
Rag
Grinding stone