How to Remove Cinder Block Walls
When you want to alter your backyard landscape, you may need to remove existing cinder block walls to make room for new flowerbeds or other features. Tearing down a cinder block wall is easy and only requires a few tools to get the job done. Whether you're experienced with demolition around the home or not, tearing down a block wall takes very little time. Removing an old, damaged or stained wall can drastically improve the appearance of your home and its curb appeal as well.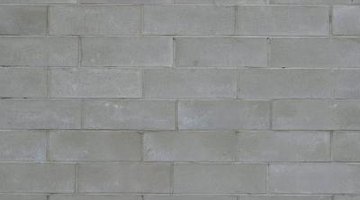 Step 1
Protect yourself during demolition by putting on protective gear, such as eye goggles and heavy-duty gloves.
Step 2
Swing a sledgehammer against the wall to begin breaking it apart. Before demolition, check the other side of the wall to make sure there is no property that can be damaged by flying pieces of cinder block. Most cinder block walls will be hollow inside, making demolition easy, since the blocks will crack along the mortar lines and break off.
Step 3
Remove debris as you go to keep cleanup easier. Instead of throwing the broken cinder block away, contact the staff at your local waste management department to see if they will pick up the debris so it can be broken down and used for other construction projects.
Step 4
Cut any existing rebar at the ground level, using a reciprocating saw. Start the saw before you begin cutting the bar to prevent jarring once you make contact, and then use a shovel to dig up the concrete sections where the rebar was inserted.