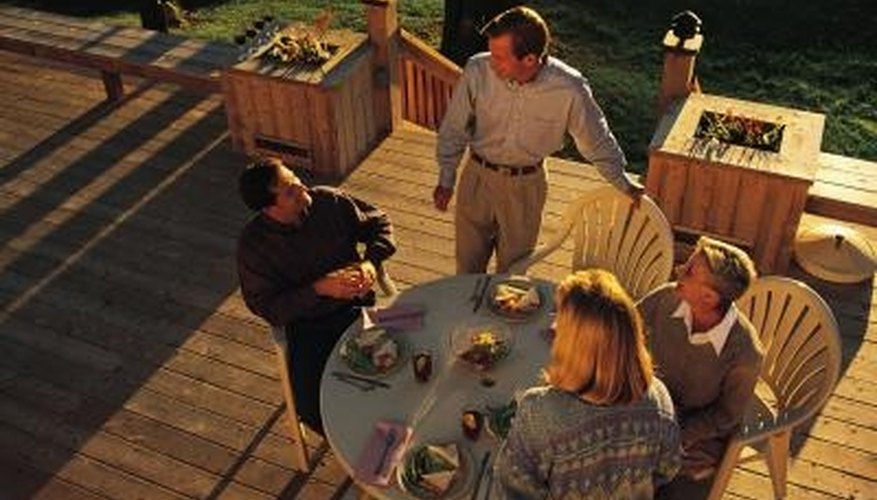 Coolaroo shades are said to block 90 percent of the sun's rays while providing long lasting shade. And they make your garden, patio or pool area stylish and attractive too. Coolaroo shades come in two shapes, triangle or square, and are available in several colors including blue, yellow, green, sand, orange, and terra cotta. Setting up a Coolaroo shade cloth in your yard can be done by most DIY homeowners.
Decide where to install the Coolaroo shade. There should be enough space so that the width of the shade will fit and so that you can insert fixing posts.
Determine the angle for your Coolaroo shade. If you are using a triangular shade, two ends should be placed higher than the third one. For square-shaped Coolaroo shades, two diagonal corners should be constructed lower than the other two. Having lower points in both triangular and square-shaped Coolaroo will allow runoff water.
Find a fixture where you can attach the corners of the Coolaroo. A fence post, a pergola or the side of your house will do. Make sure the fixture is stable and should be at least 8 feet tall.
Lay your shade out and remember to use the proper supports to install the shade. If you are attaching it to an existing structure, say on the side of your house, use fascia supports. Use steel posts to provide additional support to your Coolaroo shade.
Dig footings of at least 15 3/4 inches wide and 31 1/2 inches deep. Depending on the size of your shade, you can make it wider or deeper. Pour gravel at the bottom of the hole and fill it with concrete after you have positioned the posts.
Attach the fixing accessories to the mounting points. All of them should face the middle of the Coolaroo. You can use a strap tensioning tool to increase the shade's tension easily. Your Coolaroo shade is properly installed when it is rigid and without creases.
Things You Will Need

Coolaroo shade
Measuring tape
Shovel
Concrete mixture
Timber poles
Ladder
Fixing accessories
Strap tensioning tool