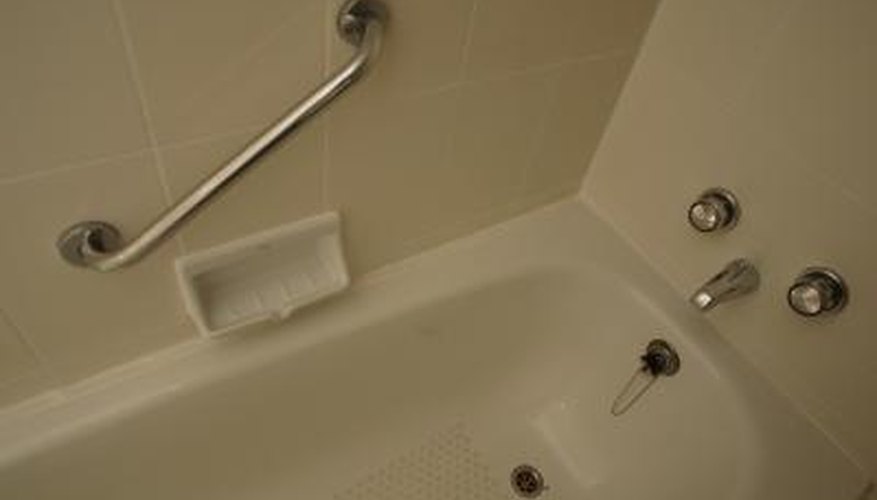 Venting allows a small amount of water to back up into the vent. This prevents back flow and bad smells from the bath drain. Installing a vent is best done before the walls of the bathroom are finished. If your bathroom is already finished you may wish to consider help from a professional contractor to reduce possible damage to the wall.
Step 1
Turn off the water to the system.
Step 2
Hold a 1 1/2-inch venting elbow up to the bathtub drain pipe. Mark on the drain pipe with a marker.
Step 3
Cut the bathtub drain pipe to accommodate the vent elbow with a hacksaw.
Step 4
Apply plumber's glue to the bathtub drain pipes and insert them into the elbow.
Step 5
Measure from the elbow to the ceiling of the room. Drill a 2-inch hole into the ceiling so the pipe can fit through.
Step 6
Apply plumber's glue to the end of the vent pipe. Insert the vent pipe into the elbow.
Step 7
Continue installing vent pipes up to the roof. Cut a hole into the roof that is 2 inches. Extend the vent pipe through the roof so it extends 6 inches above the roof grade.
Step 8
Fit a vent cap over the vent pipe. Apply roofing cement to the bottom of the cap and apply it to the roof surface to seal it.
Things You Will Need

Hacksaw
Vent elbow
Drill
Hole drill bit
Vent pipe
Vent hood
Roofing cement