Defining a Space's Function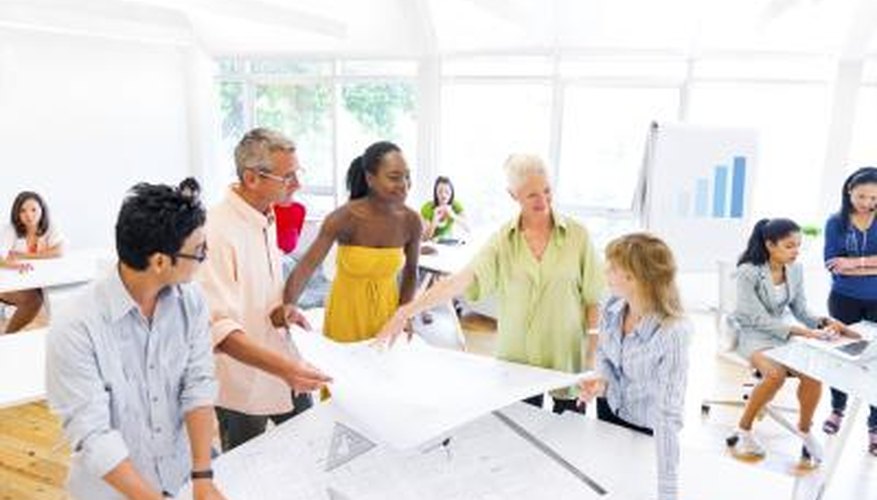 The designers take input from their clients as to space uses and requirements, develop theoretical designs and plans, create physical documents or design plans, and oversee building and installation. Architects, interior designers and builders all use different phrasing to describe the basic five-stage interior design process, but it boils down to programming, design development, construction documentation, installation and completion.
The programming phase isn't about a software program, it's about defining the function of the space and what's needed to meet that function. The designer takes client input to determine the number of people intending to occupy the space, whether the space must serve more than one purpose, its three-dimensional needs, what people plan to do in the space, the lighting or equipment needed to make that happen. Other concerns that come into this planning phase include storage, room occupant ages, energy requirements and the adjacent rooms that connect with the space.
Developing the Design
After answering all the programming-phase questions about a specific room -- and this is done room by room in interior design when designing a home -- the interior designer begins the schematic, space planning stage or design development process. Incorporating the needed functions for the specific occupants, design development starts with the first two-dimensional room shapes that also incorporate bubble diagrams for room flow. The hard shape of the room may not yet take place as the designer tries on various features -- built-in elements, door and window placement -- for the emerging floor plan.
Documenting the Process
As the design solidifies, two-dimensional drawings start to take shape. Electrical outlets are placed on walls, plumbing, light fixtures and any built-in items get incorporated into the construction documents or blueprints. This includes ceiling and wall details, and final window and door placement. Color and pattern choices for individual rooms begin to take shape during this phase, based on structural and architectural designs. The next phase, construction administration, oversees the final building process to ensure the design vision for the space is carried out accordingly. This includes ensuring that contractors use the finish materials recommended for the project called for by the design, such as hardwood floors installed with a French-bleed finish or the right colored grout for tile.
Installing the Design
Following the construction and administration phase, the interior designer follows up on the installation of chosen window treatments, furnishings, fabrics and decor enhancements of the space. But before the project can be considered finished, the interior designer and the client complete a walk-through to create a punch-list of items that need attention, fixing or adjustment. Most interior designers follow a similar plan, unless the scope of your project dictates modifications to it.