How to Become a Furniture Repair Person
A furniture repair person is a professional who restores cosmetic or structural damage to furniture. Employment of woodworkers, which include furniture repair people, is expected to rise 6 percent by 2018, according to the U.S. Bureau of Labor Statistics. People who repair furniture must be detail-oriented and have both manual dexterity and mechanical ability. The average salary in 2010 was $33,000, reports SimplyHired.com. Just a few steps can help you become a furniture repair person.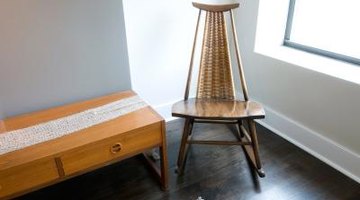 Step 1
Take courses including woodworking, sewing, math and computer applications if you are still in high school. These classes will give you the foundation you need to enter a training program.
Step 2
Look for a furniture-repair training program that meets your needs. For example, the American Wood Finishing Institute in New Jersey offers seminars on various aspects of the industry. You can choose one or more of several sessions that last two to three days. If you are interested in working as an apprentice, search for apprenticeships such as that of Weathersby Guild in Georgia, which offers 21 days of hands-on training. Furniture repair training also is offered online by schools such as the Penn Foster Career School. This institution offers a distance-education diploma program for aspiring furniture and cabinetmakers, who can work in repair shops upon graduation.
Step 3
Continue taking courses such as those offered by the American Wood Finishing Institute. Consider courses in sanding technologies, color matching and finishing equipment, as well as master techniques in polyester polyurethane, antique and glazed finishes.
Step 4
Set up a workplace. Practice identifying various pieces of wood types and styles. Become comfortable with working with edge tools such as chisels, as well as woodworking machinery.
Step 5
Practice replacing seats using simple padded seats or even more complicated upholstery while you're in your furniture-repair training program. Also, learn how to rejuvenate aged or dull surfaces by removing water rings. Get experience fixing scratched tops and even doing faux finishing and leather repair, the website FurnitureToday advises.
Step 6
Search for furniture-repair job opportunities. Your training program should be able to direct you to positions in the field. In addition, contact local furniture repair shops to see if they are hiring. If you completed an apprenticeship, you will be designated a journeyman furniture repairman and might be able to enter the company's mentoring program automatically. Begin your furniture repair career by working for someone else, even if you want to operate your own business someday. This will give you the hands-on experience you need to determine what you will need to start your own business.
References
Resources
Writer Bio
YaShekia King, of Indianapolis, began writing professionally in 2003. Her work has appeared in several publications including the "South Bend Tribune" and "Clouds Across the Stars," an international book. She also is a licensed Realtor and clinical certified dental assistant. King holds a bachelor's degree in journalism from Ball State University.
Photo Credits
Jupiterimages/Photos.com/Getty Images
More Articles