Time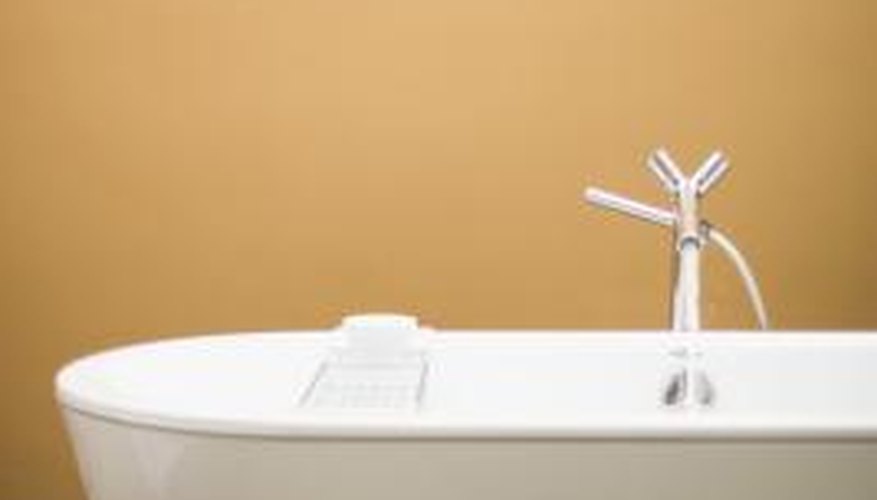 The tubs can also show signs of damage, including scratches and chips. Replacing the bathtub requires a lot of work in removal and installation. Reglazing the tub involves simply adding a protective coating that hides damage, but does not create a perfect solution.
Replacing your tub is a job for a professional, but reglazing the tub is a task anyone can do. The problem is that the process takes up to a week. It only takes a few hours or less to apply the glaze, but the glaze must cure for up to a week, depending on the manufacturer. During that week, you cannot use the bathtub or expose the tub to any type of moisture. You may have problems if your faucets leak because the water stops the glaze from bonding with the old tub.
How Long it Lasts
Reglazing your bathtub changes the look of the tub, but the process is not permanent. When you replace the tub, the new tub may last for years or even decades. Glazing may show signs of wear and tear within a year. Professional glazing jobs generally last longer because the glaze professionals use is stronger than the glaze found in do-it-yourself kits. If the glaze becomes wet during the bonding process or the bond does not sufficiently hold, then the glaze will fail even sooner.
Scams
According to Carina Works, using a professional is as potentially dangerous as using a reglazing kit. Scam companies may install a cheap glaze that does not hold or is not designed for bathroom use and then claim you need a more expensive glaze. Carina Works recommends checking with the Better Business Bureau and ask for reviews from past customers.
Showing Damage
When reglazing your bathtub, you may notice that the glaze shows more damage than your original tub, especially if you choose a glaze in a different color from the tub. If you drop something in the tub or an object scratches the surface, the glaze pulls away and reveals the original tub. Fixing the scratches and damaged areas creates additional costs.