What Are French Bleed Plank Floors?
If you want to add color variation and visual texture to your floor, and don't have the budget for a high-end exotic hardwood, French bleed planks may be what you're looking for. French bleed is a type of finish, and it can be applied to any type of flooring material, including bamboo. If you prefer the simplicity and flexibility of a floating floor, you can also find laminate flooring with a French bleed plank design.
French Bleed Staining Technique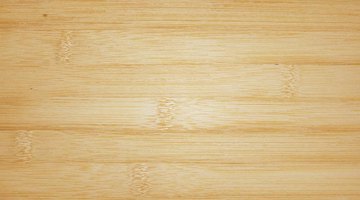 People who constructed cabins, houses and rural buildings in times gone by often used 6-inch or wider planks, which are about twice as wide as the most common modern floorboards. Because of their width, these planks inevitably crowned, which means their centers bulged upward exposing them to increased foot traffic. As a result, the centers became lighter than the edges. French bleed is a stain technique that simulates this wear pattern. The edges and ends of each plank are stained darker than the rest of the wood, and some of the stain may follow the grain to create streaks and blotches typical of natural wear.
Wider Boards Are Better
French bleed can be applied to virtually any type of hardwood, including oak, birch, maple, cherry and walnut. It looks better on planks wider than 5 inches than it does on standard floorboards. The dark color that accentuates the edges can dominate the floor if the boards are narrow. Using French bleed planks is a viable way to give your floor an aged appearance without distressing the wood or hand scraping it, both of which pockmark the surface and make the floor harder to keep clean. French bleed planks usually come with a durable, factory-applied finish that requires minimal maintenance.
French Bleed Bamboo
Bamboo flooring manufacturers also use the French bleed technique to add color and character to their products. The technique is often applied to strand-woven flooring, which otherwise usually has little color contrast. French bleed bamboo often has streaks of color that shoot through the centers of the planks, which can be as wide as 5 or 6 inches. The effect is similar to carbonizing, but it isn't monochromatic -- it creates contrast. It looks best in a room with subtle colors that don't compete with it for attention. You can also buy hand-scraped French bleed bamboo board flooring.
Keeping It Simple
In general, French bleed flooring planks look best in a room with simple colors and muted activity that needs an energetic boost. To prevent the colors from being overwhelming, you might complement them with a pastel on the walls that has a hue somewhere between them. If you plan to install cabinets in a room with French plank flooring, avoid grainy woods that compete with the floor for attention, and keep the hue in the same neighborhood as that on the floor. The same applies to woodwork, including baseboards, door and window trim and crown molding.
References
Resources
Writer Bio
Chris Deziel has a bachelor's degree in physics and a master's degree in humanities. Besides having an abiding interest in popular science, Deziel has been active in the building and home design trades since 1975. As a landscape builder, he helped establish two gardening companies.
Photo Credits
STILLFX/iStock/Getty Images
More Articles