What Is the Difference Between an Open Floor Plan & a Split Floor Plan?
An open floor plan home design eliminates dividers between the living areas. Lofts are examples of the open floor plan as floor-to-ceiling walls are not used, with the exception of the bathroom. This allows visual contact and participation across the space. A split plan puts the kitchen, dining and living rooms in one area of the house, either with or without separating doors and walls, and then creates wings on either side containing bedrooms and bathrooms, all with doors.
History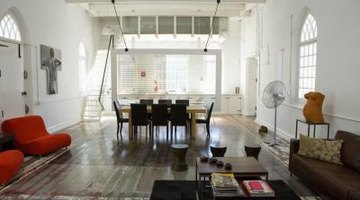 The history of home design in the United States started with an open plan concept, for practical reasons. Cold weather required a fireplace for heat, and one large room was the most efficient way for everyone to benefit. It wasn't until the late 18th century and the invention of cast iron stoves with venting that room separations became common in small houses. Space heating marked the beginning of the split plan home design. In the late 20th century, homes opened up again and walls disappeared. Great rooms meant that the adjacent kitchen became a social gathering spot, and family activities flowed from it through the dining area to the family room. The open floor plan concept continues to be popular.
Open Plan Living
Soaring ceilings, open spaces and walls of windows letting light penetrate the living areas are keynotes of open-plan design. Meals are prepared in a kitchen that is open to the dining area and family room. The bedroom areas are sequestered beyond the living areas but not closed off. A continuous visual link between the spaces is one of the main features of an open plan.
Decorating Open Plan Homes
Without walls, room division becomes a visual task in an open plan environment, utilizing furnishings and accessories as room dividers. A movable, open bookcase or a dining room sideboard act to define floor spaces but allow the eye to travel through or above the furniture to other areas of the space. Plants as well as curtains hung from the ceiling are also used to separate, but not close off, living areas. Decor is visually consistent throughout.
Split Plan Living
Doors and walls define the living spaces in split-plan homes. Alone time is readily available just by closing a door. Heat and air conditioning is contained within a room, making a split-plan home more energy-efficient. This traditional interior design allows privacy amid defined spaces and creates more intimate living spaces. The split plan design is popular in Cape Cod and bungalow-style homes.
Split Plan Decorating
A door defines the beginning of a space in a split plan. Once opened, any design motif enhances the room. It isn't necessary to carry that design to other rooms, allowing more versatility in decor. The kitchen may be a room unto itself and needn't merge with the other living areas.
Combining Design Elements
Today's contemporary home designs utilize a combination of open and split-plan layouts. The center of the home, including the kitchen, dining and family rooms, are one space. A formal living room is adjacent, but separated by an open passageway. Bedrooms flank the central living spaces and have privacy doors. It isn't unusual to find bedrooms with en-suite bathrooms on both sides of the house, opening the plan for use by roommates as well as families.
References
Writer Bio
Jann Seal is published in magazines throughout the country and is noted for her design and decor articles and celebrity *in-home* interviews. An English degree from the University of Maryland and extensive travels and relocations to other countries have added to her decorating insight.
Photo Credits
Goodshoot/Goodshoot/Getty Images
More Articles