Wood Stove Operation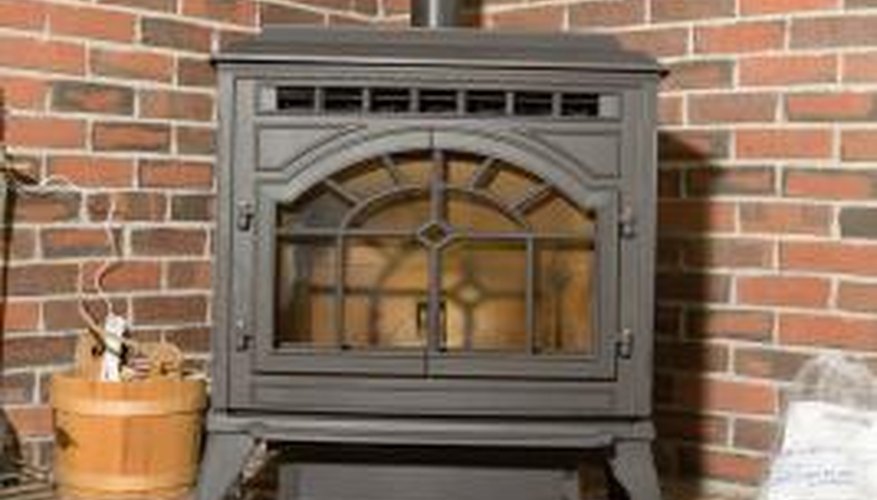 Part of the process of installing a wood stove requires attaching the stove's exhaust pipe to an existing or newly installed chimney flue. As flue and stove pipe sizes vary, it's important to ensure pipe and flue fittings form a sealed and secure connection. In effect, flue size and shape will determine how a wood stove pipe will attach.
As stand-alone units or fireplace inserts, wood stoves rely on chimney flues to direct combustion smoke and gases up and into the outside air. A wood stove unit includes a combustion chamber that uses either a catalytic combustor or a process that recirculates the stove's smoke and gases. Since smoke and gases travel up the flue passageway, any obstructions or leaks can hamper a wood stove's exhaust system and potentially create a fire hazard. As a result, the condition of the chimney flue will affect wood stove performance in terms of burning efficiency and proper smoke discharge.
Chimney Flue Effects
The chimney flue carries out two general purposes in the operation of a wood stove. The flue enclosure creates a draft effect that pulls smoke out of the chimney and draws the oxygen needed for fire combustion into the chimney. Smoke-draft effects also rely on the natural tendency of warm air, or smoke to rise. The size of the chimney flue and the height of the chimney affect how strong a draft will move through the flue. In effect, taller chimneys create a stronger draft effect. As flue wall temperatures can affect rising air currents, warm flue wall surfaces also allow warm airs to rise more quickly than cool chimney surfaces.
Flue Sizes
In order for a wood stove to operate at full efficiency, the size of the chimney flue must correspond with the capacity requirements of the stove. This requires proper sizing and fitting of the chimney flue to the stove's exhaust pipe. In terms of size proportions, a chimney flue opening should exceed the exhaust pipe size by 25 percent, according to the University of Missouri Extension. For example, a stove pipe with a 6-inch diameter requires a flue opening with an 8-inch diameter. In cases where a large size difference exists, smaller stove pipes will still work, provided the chimney height extends 30 feet or more.
Chimney Connectors
Chimney connectors — also known as slip connectors — make it possible to create a secure connection between mismatched sized stove pipe exhausts and flue openings. Chimney connectors also come in handy in cases where a stove pipe's length doesn't reach the flue opening. Connector pieces use a 4-inch slider pipe that extends out to a maximum of 16 inches. The ends of a connector differ in terms of which end goes into the stove pipe exhaust and which end goes into the flue opening. For air flow and combustion purposes, the male end inserts into the stove pipe while the female end fits overtop the flue opening.