Wood Finishing in the 1930s
Furniture from the 1930s has a genteel familiarity that is reminiscent of great-grandmother's parlor and Hollywood's Golden Era. Cozy, overstuffed sofas and easy chairs offered comfort during the Great Depression in households that could afford new furniture. Although a new material, polyurethane, was being used on floors, furniture finishes still used traditional resin compounds.
Thirties Style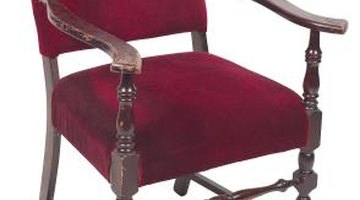 The furniture found in 1930s parlors was mostly factory-made, a practice begun during the Victorian Era, making possible a wide variety of styles for the modern home. Art deco, Moderne and a variety of new interpretations of earlier styles, including Queen Anne and Chippendale revivals, provided the inspiration for wood furniture built during the period. Before refinishing any of these pieces, try first to save the original finish. Popular furniture finishes of the 1930s are not widely available today due to their highly volatile solvents.
Oil Finishes
Manufactured wood pieces for furniture were assembled, stained and finished by hand in the 1930s. The finest furniture was given a hand-rubbed oil finish. Finishers sanded assembled pieces and rubbed them with boiled linseed oil or a newer product from China, tung oil, until the surface was smooth and hard. Several thin coats protected an oil-finished piece and an annual coating of furniture wax protected the wood. Eventually, the wood would dry out, though, and more coats of oil and rubbing would be required to maintain the finish.
Varnish
Varnish, a combination of shellac and linseed oil, gave wood furniture a low-maintenance finish more suited to families with children. Shellac-based varnish wipes on in the same manner as oil but does not require lengthy rubbing to finish. Varnish also goes on in several thin coats but dries faster than oil finishes because of its solvents. Light sanding between coats helps keep the finish smooth.
Varnish has a habit of darkening with age. Fortunately, renewal is simple. Old wax and dirt dissolves in hot water and oil soap and a new coat of shellac-based varnish partially dissolves and bonds with the coat beneath it. Varnish was a widely used finish in the 1930s. Rather than refinish furniture with a dark or cracked finish, try cleaning the wood with linseed oil or gum turpentine; if the finish softens, it can be renewed with a new coat of varnish.
Lacquer
A durable, quick-drying finish, lacquer is made with the same resin, lac, as shellac. The solvent used in historic lacquers, nitrocellulose, is a super-charged, exceptionally fast-drying solvent that has been largely replaced by acrylic lacquer, a less volatile modern alternative. Nitrocellulose lacquer makes a glass-like finish but yellows, shrinks and cracks with age, causing a condition called alligatoring. Like varnish, it can be renewed by cleaning and recoating. Nitrocellulose lacquer coats best when sprayed on, making it convenient for manufacturers who installed spray booths at the end of assembly lines to finish furniture in batches. Introduced by DuPont in 1921, lacquer quickly became the preferred finish for the furniture industry.
References
Writer Bio
An avid perennial gardener and old house owner, Laura Reynolds has had careers in teaching and juvenile justice. A retired municipal judgem Reynolds holds a degree in communications from Northern Illinois University. Her six children and stepchildren served as subjects of editorials during her tenure as a local newspaper editor.
Photo Credits
Hemera Technologies/PhotoObjects.net/Getty Images
More Articles