Marking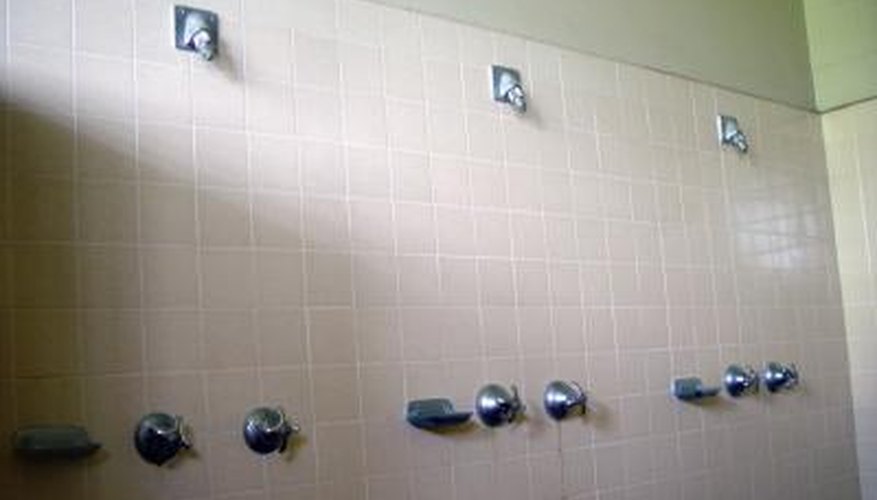 Most custom-built showers use tile instead of fiberglass or acrylic because these materials come pre-molded. The mortar bed and tile for a custom shower need a sturdy and square frame roughed in first to support them.
Before you nail any framing lumber in place you'll need to make grease or chalk marks where the walls of the shower will be added. Framing a custom shower stall requires you to lay out your design on paper first so you can set the studs the correct distance apart to accommodate the cement board that will form the walls. Pre-built acrylic and fiberglass showers come with designs showing installers where to draw the framing marks, according to Hometime, but you'll need to make this plan for your own design.
Wall Framing
Build the frame for the walls of the custom shower stall first and then build the base of the shower pan. Two-inch-by-4-inch lumber works best for the base plates of these walls, says Home Addition Plus. Studs should be installed 16 inches apart, with these widths centered. This means that some studs may be closer together if the width of the finished wall won't end on a measurement evenly divisible by 16. Studs shouldn't be more than 16 inches apart or installing the cement board will be difficult.
Framing the Floor
The shower pan needs to have a sturdy frame to support the layers of mortar, waterproof membrane and plywood. Mark where the drain before framing the floor. Adding a row of 2-inch-by-6-inch lumber between each stud around the base creates walls for containing the mortar bed that forms the sloped shower pan, according to Home Addition Plus. A stack of two pieces of lumber anchored to each other vertically with wood screws creates a quick curb to keep water from flowing out of the shower.
Framing Cubbies
If you'd like to have built-in niches for storing shampoo and soap, these structures should be built during the framing process. Build a simple box of 2-inch-by-4-inch boards that will fit between two studs, recommends Fine Homebuilding. Once you've hung the cement board, simply cut an opening that fits the box snugly and nail or screw it into the opening. Once tiled, the box will create a convenient and permanent storage space.