The Best Wood Finish for Full Sun
The sun's damaging UV rays require the choice of an appropriate finish for your home's deck, siding, shutters, doors or outdoor furniture, which can take a little research. Finishing a wood surface, especially if the surface is as large as a house, can be costly; also, the finish you use may need to be reapplied every 2-3 years. Choose your finish wisely, and you will need to refinish less frequently.
Stains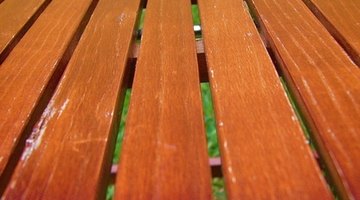 The best stain to use in a full-sun application is an opaque or semi-transparent version. The pigment in these stains acts as a UV blocker, protecting the finished wood from rapid degradation. Stains are cost-effective, and using a semi-transparent version allows the grain of the wood to show through.
Varnish
Though it can be costly, varnish provides a beautiful finish on wood. If you are choosing varnish that will be left in the sun, select one that is recommended for marine use, as these have a higher UV tolerance. Some thinning may be necessary to get the best results. In particularly arid climates, use 2 parts marine varnish to 1 part mineral spirits and 1 part boiled linseed oil. This mix extends the life of the varnish.
Paint
Paint is sometimes the best choice for finishing wood that is subject to full sun exposure. Latex paint over an oil primer has the ability to fully shield the wood's surface from UV rays. Paint forms a film over the surface and acts as an armor, keeping out not only sun, but moisture, too. Oil-based paints are not as effective as latex and acrylic polymers since they are not porous enough to breathe. Latex paint is one of the most cost-effective methods of wood finishing.
A Word On Woods
The type of wood you are finishing will affect the finish you end up choosing. For instance, due to the water-soluble extractives found in redwood and cedar, they cannot be finished with latex. Much wood discoloration or graying is caused by the growth of mildew within the grain, and can often be washed away with a pressure washer or sanded off before finishing. Another consideration when finishing wood is that sun exposure is lower on the north side of a building, thus requiring less maintenance than sides facing in other directions; this fact can potentially help you save money while still properly maintaining wood surfaces.
References
Resources
Writer Bio
Angela Baird has been writing professionally since 1995. She has a wide range of life experiences from work with abused animals with the Humane Society, to more than 20 years of hands-on experience in the culinary arts. In addition, she keeps horses and does her own home improvements and home gardening.
Photo Credits
More Articles