Ingredients in Deck Cleaner
Even the best-looking wood deck will deteriorate in appearance over time. Exposure to dirt, mildew, rain, snow and sunlight will eventually fade and discolor the wood deck. One way to restore a wood deck to its original glory is to clean it with a pressure washer and a specialty deck cleaning solution. Choose from various deck cleaners with different ingredients designed to remove dirt and restore the original wood finish.
Chlorine Bleaches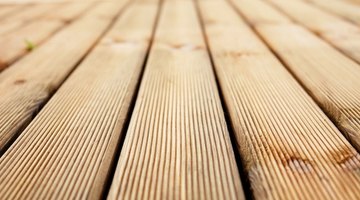 Many deck cleaners contain chlorine bleaches such as calcium hypochlorite and sodium hypochlorite. Deck cleaners include chlorine bleach to remove mildew from the wood surface. One of the disadvantages of chlorine-based bleach is that it can damage wood fibers and leave the wood deck with an unnatural white color. Thoroughly rinse decks with clean water after using a chlorine bleach-based cleaner.
Oxygen Bleaches
The oxygen-type bleach sodium percarbonate is a common ingredient in deck cleaners. When added to water, the chemical forms hydrogen peroxide and sodium carbonate. Combined, these two cleaners remove mildew stains, dirt and other ingrained deposits on the wood deck. The cleaner also removes the gray residue left on wood decks by the effects of ultraviolet radiation from the sun.
Oxalic Acids
The natural tannins in some types of wood, such as redwood and cedar, can leach out over time and this leads to unsightly red or brown discoloration blotches on the wood deck. Iron from nails can also discolor redwood and cedar decks. Bleach-based cleaners can't remove this type of discoloration but oxalic acids can effectively remove the marks. Oxalic acids dissolve the tannins and iron residues to restore the original color of the deck.
Other Ingredients
Deck cleaners include a range of other chemicals in addition to the main active ingredients. These can include ammonia, hydrofluoric acid, ethanol, dyes and fragrances. Environmentally friendly deck cleaners replace chemicals with natural ingredients, including amino acids, vegetable and fruit juices, enzymes and minerals.
References
Resources
Writer Bio
Adrian Grahams began writing professionally in 1989 after training as a newspaper reporter. His work has been published online and in various newspapers, including "The Cornish Times" and "The Sunday Independent." Grahams specializes in technology and communications. He holds a Bachelor of Science, postgraduate diplomas in journalism and website design and is studying for an MBA.
Photo Credits
More Articles