Dishwasher Drain Problems
Dishwashers generally operate without any issues. A common problem, however, is that the tub doesn't drain properly. This either leaves standing water in the tub, or your dishes don't dry properly. While this is frustrating, it's usually easy to fix. Always disconnect your dishwasher from the power supply before attempting any repair.
Drainage Hose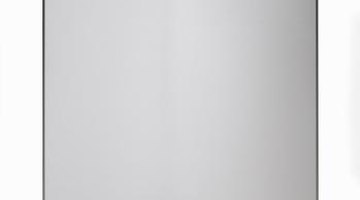 The most common reason for your dishwasher not draining is the drainage hose, which siphons water out of the washing machine. If your drainage hose is kinked, straighten it. Examine the hose, and remove any debris or lime-scale buildup if present. Verify that the hose is not split or extremely kinked. If it is, you must replace it. If clogged, clean the air gap, located near the sink. Always check and see if the cycle is complete and has not paused for a few seconds. If you have opened the dishwasher door, press the "Start/Resume" button to restart the cycle.
Drain Valve/Belt
Your dishwasher may come with a drain valve that has an internal electric solenoid. This solenoid can get stuck in place, stopping your water from draining. Oil the lever, and remove any debris stuck in it. Certain brands of dishwashers feature a pump belt, which moves the pump. If this belt is broken, your pump won't move. Replace the belt if it is no longer attached to the pump or if it is split.
Pump
The pump is responsible for removing water from your tub. It is located on the base of your dishwasher. Your pump can become clogged with food or debris. Clean it with a toothpick. If the pump still won't move, remove it from the dishwasher, and examine the internal components. The pump has an impeller, which moves water through the dishwasher spray arm. If the impeller is broken, you must replace the entire pump.
Additional Components
If your dishwasher is attached to a food waste disposer, remove the knockout plug. If you smell a burning electrical odor, check the motor. Try turning the motor. If it does not freely turn, or if it is burned out, you must replace it. If you haven't run your dishwasher for a while, your motor may be stuck. Unplug the dishwasher and spin the motor to unfreeze it. Restart your cycle. Your dishwasher usually also has a timer, which runs both the drain valve and motor. If the timer is corroded, rusted or burned out, you must get a new one.
References
Resources
Writer Bio
Misty Faucheux became a freelance writer in 1998 and has been an editor since 2004. She has written for a variety of websites and blogs, specializing in topics ranging from digital photography to computer systems to digital media. Faucheux received a Bachelor of Arts in communications from Loyola University New Orleans.
Photo Credits
Ryan McVay/Photodisc/Getty Images
More Articles