Satin Sheets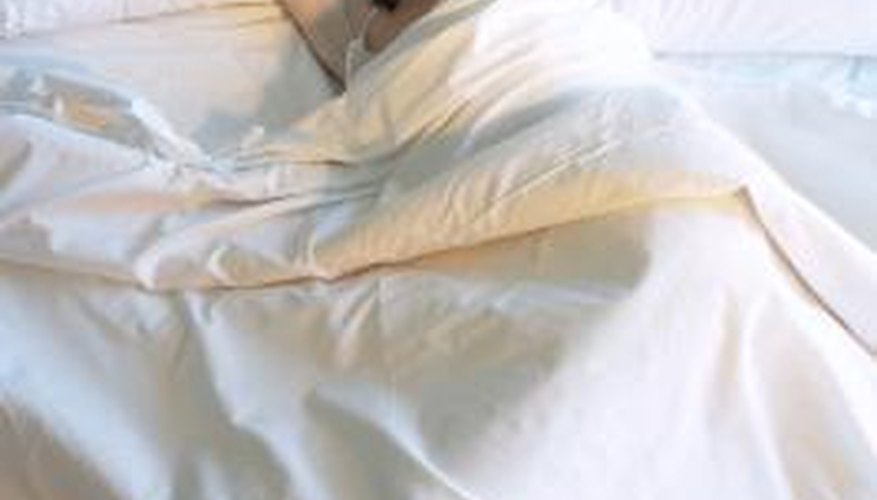 The key to making the most of a memory foam mattress is to use an appropriate size of sheet for the fitted portion. If you are a sleeper that enjoys wrapping up in the top sheet, use a sheet that is a size larger than your bed requires. According to FoamOrder. org, memory foam mattresses are easier to fit in sheets than spring mattresses.
Satin sheets can add to the memory foam comfort mattress effect. Satin sheets are cool in the summer and warm up quickly in the winter. For sleepers who roll around in their sleep, satin makes the perfect sheet combination with memory foam, for satin allows for freedom of movement, without the feeling of getting twisted or tangled up in sheets. Satin can play an aphrodisiac role in the bedroom and can add elegant touches to the decor, as well.
Sateen Sheets
Sateen sheets, crafted of 100 percent combed cotton, provide a soft finish and a satin-like effect to the bed. Look for sateen sheets with deep-pocketed corners that fit on memory foam mattresses up to 16 inches deep. Sateen sheets often last longer when laundered often than satin sheets, yet they can offer similarities in feel and comfort. Sateen sheets can usually be purchased in 400 or 500 thread counts.
Cotton Sheets
Cotton sheets are hypoallergenic, which makes them positive sheets for asthmatics. Cotton sheets are cool in the summer and warm in the winter. Cotton launders easily and is durable. Cotton sheets are comfortable, soft and offers a variety of thread counts. Cotton sheets can move perfectly with your body when you sleep on a memory foam mattress, adhering to the mattress and the body, offering a perfect night's sleep. Many organic cotton sheets are made from premium eco-wool from the United States and are zero-waste companies, reusing and recycling all of their products.
Sheet Choice Considerations
Before you choose the sheets for your memory foam mattress, consider your sheet needs and desires. Many shop for high thread count without considering fiber or weave quality. A sheet with a better-quality fiber with a lower thread count will feel softer and withstand laundering more effectively than a lower-quality fiber and a higher thread count sheet, according to Real Simple Online.