What Is the Difference in Open & Closed Burning?
You might imagine that to burn trash, wood or old structures would be a simple undertaking. However, when and how you choose to do this is likely regulated in your community by open and closed burning rules. Knowing the difference in open and closed burning, as well as the hazards involved in each is important to know.
Open Burning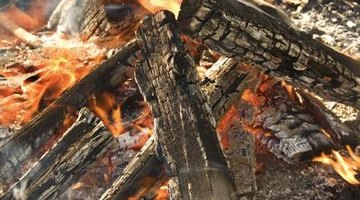 Open burning is any flame-based destruction of materials where the products of that destruction are allowed to emit into the atmosphere. Examples of open burning can range from a simple camp fire to barrel burning of materials to the fully involved burning of a home for destructive or fire training purposes. Private citizens are typically forbidden to conduct open burns of structures or fields, even when these may be on their own property. Most cities require a permit to do so.
Closed Burning
By contrast, a closed burn is a fire that is conducted within the confines of some form of controlling structure, such as a chimney, stove or factory fire wall. This is considered to be safer for those around it as well as more environmentally appropriate. Because of this, the majority of closed burns require no permit but there are safety concerns for closed burns. Chimneys for instance, must be constructed and maintained in ways to ensure that dangerous burn-off fumes, such as carbon monoxide, are not distributed back into living spaces.
Fire Risks
The primary risk for open burning is spreading flames to unprotected areas. The common campfire is a major risk for this. Many people are not aware of how quickly small embers can be lifted away from the campfire and lead to massive destruction in dry acreage around camp sites. This is why it is important to abide by local regulations for open burning. During high risk seasons campfires may be limited or banned completely. Contact your local forestry parks and recreation division for information on when it is safest for these activities.
Environmental and Health Concerns
Unregulated open burning can lead to environmental harm when large areas, such as fields and crops, are burned regularly. This is why such burning will often require a permit and these permits are given on rotating schedules as to not overwhelm the air quality in your area. It is rare for large burns to be allowed during summer months when the air quality is typically at its worst. Open burning would only add to the problem and for many, such as the elderly and young children, air quality issues can induce asthma attacks and other respiratory crisis.
References
Writer Bio
Spencer Hope Davis has been covering topics such as work balance, travel and health since 2001. An alumna of Cleveland State University and Kent State University, Davis earned a bachelor's degree in sociology and a master's degree in justice studies.
Photo Credits
Jupiterimages/Comstock/Getty Images
More Articles