New Jersey Fire Extinguisher Regulations
The State of New Jersey recognizes that keeping a fire extinguisher in apartment buildings is essential for safety. Fire extinguishers can protect property and help save lives. Therefore, in July 2005 the State of New Jersey began requiring smaller apartment buildings to have portable fire extinguishers in each unit.
Location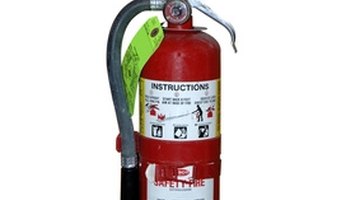 In order to protect residents and property from fires, New Jersey regulations require that landlords or sellers with less than 3 living units in their buildings equip each unit with a portable fire extinguisher. Since kitchen fires are the number one area where household fires start, it is not surprising that New Jersey regulations require portable fire extinguishers to be placed within 10 feet of the kitchen. Additionally, when single dwellings are sold, sellers must install a portable fire extinguisher meeting the same requirements. However, sellers are not required to provide fire extinguishers for seasonal rentals if they are not rented for more than 125 days.
Physical Requirements
New Jersey regulations require portable fire extinguishers in small apartment buildings to be less than 10 pounds. New Jersey law also requires the extinguishers to be multi-purpose fire extinguishers suitable for different types of fires. Multi-purpose fire extinguishers, also known as ABC extinguishers, contain Ammonium Phosphate, which can be used to help control electrical fires, liquids that ignite, and other flammable materials.
Other Issues
Failure to comply with the New Jersey law can cost upwards of $100 in fines. Although the New Jersey State law requires the fire extinguishers to be available, tenants are not required to know how to use them nor are landlords required to provide training. If fire extinguishers are not furnished, some insurance companies may decline coverage.
References
Resources
Photo Credits
More Articles