Electric Oven Wiring Requirements
Electric ovens, ranges and stove tops are convenient for cooking in modern kitchens. The well-regulated temperature of electric ovens is especially well suited for baking. Installing and wiring a new electric oven requires following the National Electric Code (NEC) for wiring and completing the installation of the appliance. Modern electric ranges and ovens require 240 wiring and circuit breakers.
Circuit Breakers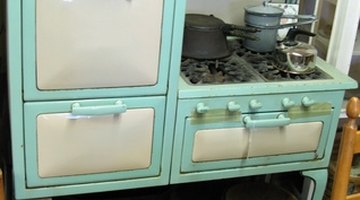 Electric ovens use 240-volt current and require two-pole circuit breakers--two single-switch circuit breakers tied together--as protection for the circuit. Some older electric ovens used 40-amp circuits, but new, modern installations require 50-amp circuits according to the NEC.
Wiring
According to NEC regulations, the wiring for a 50-amp circuit must be at least 8-gauge or larger wire. When using NM-B sheathed cable, the wire must be 6-gauge. Buy NM-B cable with three insulated wires plus a ground wire for running new circuits.
Receptacle
Receptacles for oven and range wiring are rated for 50 amps and either 125 or 250 volts. There are three narrow slots for the two hot wires and neutral wire. A fourth hole is square with one rounded side. Most configurations have the receptacle mounted on the outside of the wall.
Pigtail
The pigtail is a cord for large appliances. On one end the wires terminate with round connectors to attach to the oven or range terminals. On the other end is a plug with three slot-shaped prongs and one square prong with one round side. The plug fits the 50 amp, 125/250 volt receptacle.
Disconnecting Means
NEC regulations require that large appliances be equipped with a means of disconnecting the circuit so that the appliance may be safely serviced. NEC regulations state that the pigtail-receptacle connection may be used as the circuit disconnect. Unplugging the appliance serves as the disconnecting safety measure for the appliance.
Local Building Codes
Local building codes may vary from NEC regulations. In particular, local code enforcement agencies may take several years to adopt to new changes in the NEC. Adding new circuits to your home requires a building permit and inspection in most jurisdictions. Be sure to talk to the local code enforcement or building department in your community before beginning any work.
References
National Electric Code: NEC: 2008
Code Check Electrical; Redwood Kardon, Douglas Hansen, Michael Casey; 2002
Wiring Simplified 40th Edition; Richter, Schwan, Hartwell; 2002
Writer Bio
Michael Logan is a writer, editor and web page designer. His professional background includes electrical, computer and test engineering, real estate investment, network engineering and management, programming and remodeling company owner. Logan has been writing professionally since he was first published in "Test & Measurement World" in 1989.
Photo Credits
More Articles