Cabinet Stiles & Rail Dimensions
Kitchen cabinets are manufactured from many different materials. The back panels on kitchen cabinets are typically 1/4-inch plywood reinforced at the top and the bottom with particle board or hardwood hanging rails. The cabinet sides, top and bottom usually are various thicknesses of plywood or particle board with a wood grain finish. The front of the cabinet, called the cabinet's frame, is usually made from solid hardwood. The horizontal pieces of the frame are called "rails" while the sides are called "stiles."
Face Frame Construction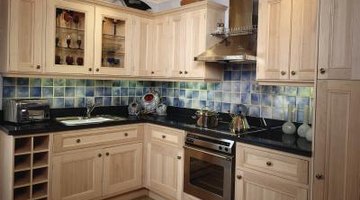 Cabinet stiles and rails make up the cabinet face frame. These pieces of wood are fastened together in such a way that the fasteners are not visible, such as dowels, biscuit joiners or pocket screws. The face frame is the part of the cabinet that gives the cabinet it's strength and rigidity. Without the face frame, a cabinet is simply a plywood box hanging on a wall.
Stile and Rail Thickness
Face frames are most commonly made from hardwood lumber, such as oak, maple or birch, that is 3/4-inch thick. The lumber is called "1-by" material in the carpentry trade because it's about 1 inch thick when first cut from a log, before being dried and planed. Hardwoods are used for face frame stock for a number of reasons. When stained and finished, hardwoods have a much more beautiful and even-toned wood color and wood grain than soft woods. The cabinet face frame also carries some of the weight of the cabinet installation, so hardwoods are preferred over softwood species because of their superior strength.
Stile and Rail Width
Cabinet stiles and rails are typically 1 1/2 to 1 3/4 inches wide. The width of the cabinet stiles and rails depends first and foremost on the quality of the kitchen cabinet. More economical cabinet lines have stiles and rails that are 1 1/2 inches wide as a rule. For cabinets with higher prices due to improved quality materials and workmanship, cabinet companies may increase the width of the stiles to 1 3/4 inches wide. For cabinets that feature two side-by-side doors, the center stile typically is 2 1/2 to 3 inches wide in order to accommodate the doors and create a consistent look.
Face Frame Dimensions
Standard upper kitchen cabinets are 30 inches tall, therefore the upper cabinet stiles are also 30 inches tall. Standard lower kitchen cabinets are 34 1/2 inches tall from the floor, but lower cabinets include a 4 1/2-inch tall toe kick, elevating the actual cabinet area from the floor, so lower cabinet stiles are also 30 inches tall. Cabinet rails mount into the face frame in between the cabinet stiles. As a result, the cabinet rails are 3 to 3 1/2 inches shorter than the overall width of the cabinet face frame, depending on the width of the lumber used for the stiles.
Multi-piece Cabinet Doors
Decorative doors for cabinets often are designed as a solid wood frame around a plywood or raised solid wood center panel. Makers of these kinds of doors use similar terms to describe the parts of the actual cabinet doors, which can introduce some confusion. Such a door is framed by two vertical pieces and two horizontal pieces of custom-milled hardwood. The door manufacturers refer to these framing pieces as stiles and rails, but they are different from the stiles and rails used to build the structural frame of the cabinet. Dimensions for the these pieces vary greatly depending on the manufacturer and style of cabinet door.
References
Resources
Writer Bio
Since 2003, Timothy Burns' writing has appeared in magazines, management and leadership papers. He has contributed to nationally published books and he leads the Word Weavers of West Michigan writers' group. Burns wrote "Forged in the Fire" in 2004, and has published numerous articles online. As a trained conference speaker, Burns speaks nationally on the art, science and inspiration of freelance writing.
Photo Credits
Hemera Technologies/Photos.com/Getty Images
More Articles