Types of Semi-Solid Doors
Table of Contents
With so many choices available, it can be difficult for many homeowners to find the right door for their home. While traditional hollow-core doors were the standard in residential structures for many years, they are slowly being replaced with more secure, long-lasting solid or semi-solid models.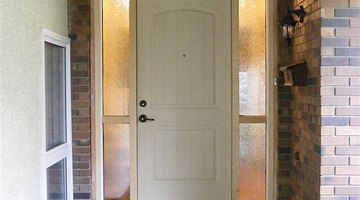 When comparing types of doors, consider the cost of the door along with its features and benefits to help you make the best decision.
Identification
A solid core door is made from solid lumber and is often known as a "stile-and-rail" door. Hollow core units consist of thin wood faces and edges. They may be filled with air or cardboard, which helps them hold their shape. A semi-solid door is a combination of the two. It features a wood or composite core that is wrapped with sheets of real wood veneer. It is an economical, quality alternative to solid or hollow models.
Types
Most semi-solid core doors are categorized by the material used to construct their core. Particle-cores are made from pressed panels of sawdust and scrap wood binded with a resinous adhesive. Stave cores are made from small blocks of wood joined together with glue. Structural composite lumber (SCL) cores consist of laminated strips of thin lumber, similar to a laminate floor. Mineral fiber cores are made from gypsum or perlite and are used to slow the spread of fiber.
Features
Semi-solid doors are available in many of the same varieties as hollow or solid doors. They feature many different wood species and grain matches, as well as a large selection of paints and stains. These doors can be pressed with panel designs or can be cut to receive windows or louvers. Most semi-solid doors still have solid lumber edges to improve security and help hold locks and hardware in place.
Benefits
A semi-solid door offers a much higher level of security then a hollow door. It will last much longer, hold up better against damage and will not warp or twist. These doors also offer the heavy feeling of solid wood, which many buyers tend to prefer. The solid core in these units helps them protect against fire and smoke, and also increases their level of insulation while helping to block sound transmission.
Drawbacks
Compared to hollow doors, semi-solid units will be much more expensive, though they may be cheaper than solid versions. Some cores pay project through the face of the door over time, especially stave or SCL cores. This causes an unattractive line to develop on the face of the door at one or more locations. These doors cannot be sanded or refinished like solid wood, and may not hold hardware or locks as well.
References
Writer Bio
Emily Beach works in the commercial construction industry in Maryland. She received her LEED accreditation from the U.S. Green Building Council in 2008 and is in the process of working towards an Architectural Hardware Consultant certification from the Door and Hardware Institute. She received a bachelor's degree in economics and management from Goucher College in Towson, Maryland.
Photo Credits
Legacy Windows: Flickr.com
Legacy Windows: Flickr.com
More Articles