Mosaic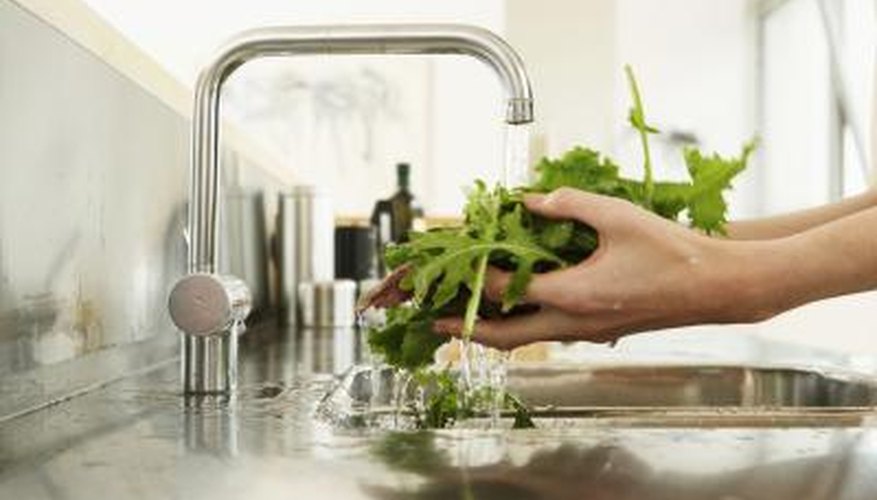 Tile splash guards can be used for showers, sinks, bathtubs and toilets. They come in a variety of styles, sizes and colors to fit your desired design and functional needs.
Mosaic designs are versatile and incorporate an abundance of color. Accenting your splash guard with mosaic tile enhances the existing features in your bathroom while also providing an easy-cleaning and functional splash guard. Use small tiles with varying clashing colors to create an attractive design for your shower, sink, bathtub or toilet splash guard. A mosaic design with broken tiles also works as a style alternative. A broken mosaic design with similar and clashing elements can make a splash guard stand out nicely.
Large Tile
Larger tiles are suitable for basic tile designs that feature solid colors or brick styles. If you're trying to match your splash guard to an existing wall design, larger tiles are better suited for this task. If you have an existing wallpaper design or paint design, for example, larger tiles with simple designs and colors won't detract from that existing design. Use colors that work well with one another when using large tiles, because clashing colors can be distracting with this tile type. Clashing colors have a tendency to distract you from the overall decor in the room and may have you changing your mind on the tiles you selected. Choose large-tile colors and designs that work together when adding large tile to a splash guard in a bathroom with existing designs.
Ceramic
Various types of ceramic tiles are commonly used in bathrooms, but they can also enhance splash guards. Hand-made ceramic tile designs that come hand-painted and layered for a distinctive tile design create a 3-D effect that combine small and medium-sized tiles when used on a splash guard. Some ceramic tiles contain 50 percent recycled materials and come in 200 colors. These tile types are alternatives to mosaic and large tiles if you want to use small and colorful ceramic tiles, for example. Handcrafted ceramic tiles come in a variety of patterns and colors. Designs from this tile family complement elaborate decor patterns in your bathroom while also accenting a splash guard.
Marble
If you're designing a splash guard with marble tile and see a marble tile that hits your eye, be sure to purchase it because no two marble tiles are alike. Marble is commonly available in lighter colors, such as white and pink, but it is also available in darker colors, such as green and black. A splash guard with marble tile is compatible with existing marble designs that are present in the bathroom. Any splash guard with a marble tile design consistent in overall color is compatible with designs of that splash guard color.