Mosaic Floor Tiles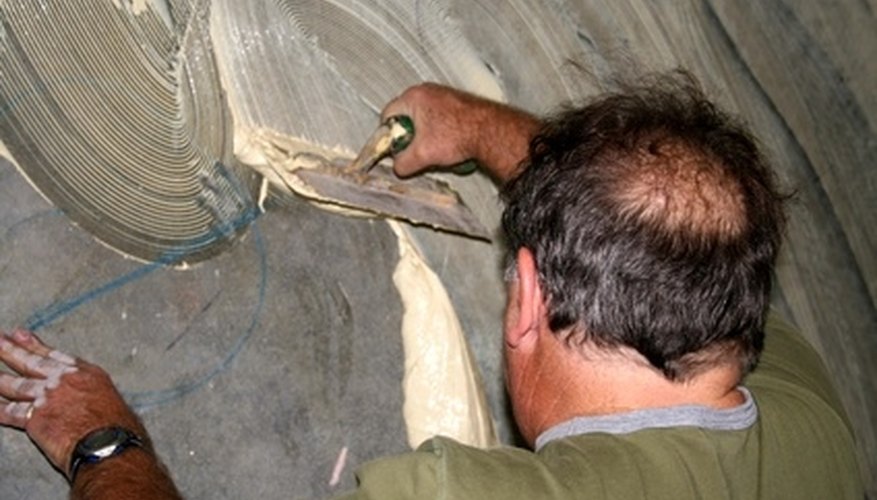 Part of this coverage is the depth and size of the ridges produced by the trowel. These ridges help create a vacuum beneath the tile. When the tile has been beaten into the setting material, this void or vacuum holds the tile in place with suction while the mortar sets up. Together, the suction and the hardened mortar are what keep your tile on the floor.
While the mortar beneath mosaic floor tile is smoothed out prior to installation, it must first be keyed into the floor by combing it with a trowel. For this, a v-notched trowel in sizes 3/16-inch to 1/4-inch should be used.
The rule of thumb to work by is: the larger the tile, the larger the trowel. A mosaic tile is defined as 2-inches in size or smaller. So a 3/8-inch or 5/8-inch mosaic will use a 3/16-inch trowel, while a 2-inch mosaic would use a 1/4-inch trowel.
Medium Sized Ceramic Floor Tiles
Ceramic tiles 6-inches to 13-inches that are a standard 3/8-inch thick or thinner can be installed using a square notch trowel. The size notches should be 1/4-inch by 3/8-inches.
While the name implies a square notch, it will actually be a rectangle, slightly longer than it is wide.
Large Format Ceramic Floor Tiles
Large format tiles, 16- nches or 18 inches in size or 1/2-inch thick, need a larger square notched trowel. For these, use a 1/2-inch x 1/2-inch square trowel.
Round trowels of this size are also availabke, but are seen less frequently. Both shapes will give adequate keying for large, thick or heavy tiles.