Vinegar and water
However, with the right products, the task can become much easier and less time-consuming. There are a variety of chemicals that can be used to clean vinyl, in addition to using a power washer or some scrubbing with a soft bristle brush. The manufacturer of your vinyl siding may also provide instructions for what products are safe for cleaning, so check that as well. .
A simple way to clean vinyl is y producing your own solution of 30 percent vinegar and 70 percent water. The mixture is especially helpful in cleaning mold and removing bubble gum, and it's cheap to make at home.
Household Cleaner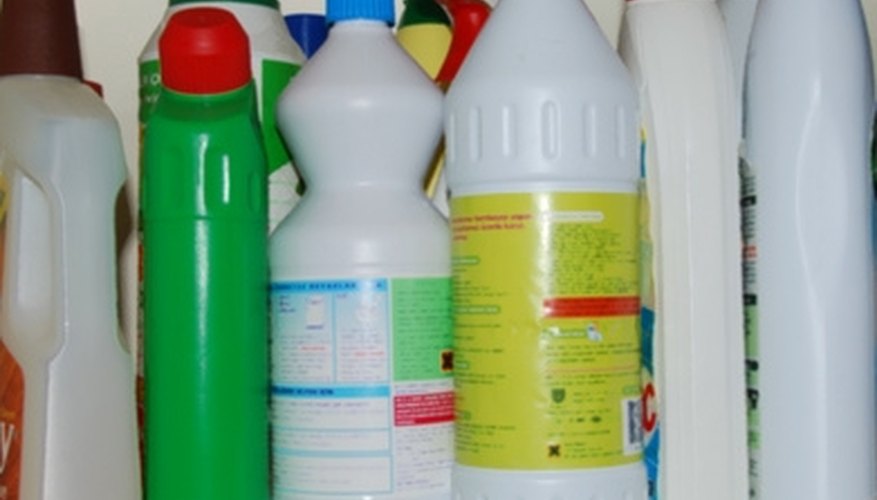 Basic household cleaners, such as Fantastik, can be used to clean vinyl siding and are also good at getting most stains off, including rust and glass. Fantastic is made up of N-alkyl Dimethyl Benzyl Ammonium Chlorides and Alkyl Dimethyl Ethylbenzyl Ammonium Chloride.
Murphy's Oil Soap
For more than 100 years, Murphy's Oil Soap has been an effective household cleaner and the same goes for getting tough stains out of vinyl. The environmentally conscious appreciate that Murphy's Oil Soap is 98 percent natural, containing plant-based and coconut-based cleaning agents, filtered water and natural fragrance. It also contains Sodium Tallate and Lauramidopropylamine oxide.
Windex
Found in most homes, Windex is also effective in getting out many stains on vinyl siding, such as car grease and gum. The ammonia-based product also contains Isopropanol, 2-Butoxyethanol and Ethylene glycol n-hexyl ether.