Active Ingredients in Simple Green
Table of Contents
The founders of the California-based Sunshine Makers, Inc., started manufacturing the Simple Green cleaning solution in the mid-1970s as an environmentally friendly method for cleaning the stains left by roasting coffee.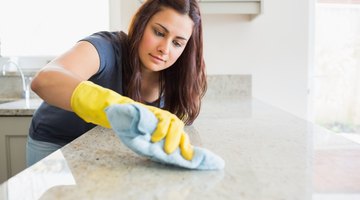 It's since become a popular all-purpose cleaner formulated with several active ingredients to help you conquer dirt and grime and keep your home looking pristine.
Water
Water comprises the majority of the liquid you see in your bottle of Simple Green. It provides the base for the product's cleaning chemicals.
Mixed Alcohol Ethoxylate
Mixed alcohol ethoxylate works as a biodegradable surfactant in Simple Green. Like all surfactants, the ethoxylate helps ensure easy spreading of the product when sprayed onto your windows, furniture, floors or other areas that need cleaning.
Tetrapotassium Pyrophosphate
Tetrapotassium pyrophosphate crystals are dissolved into the Simple Green solution as a detergent. The pyrophosphate provides some level of foaming and helps clean dirt off of hard surfaces.
Sodium Citrate
Sodium citrate works partly as a stabilizer to maintain the shelf life of Simple Green.
Fragrance and Colorant
The manufacturer of Simple Green adds several unspecified dyes and fragrances to lend the product it's characteristic scent and dark green color.
References
Writer Bio
Joshua Duvauchelle is a certified personal trainer and health journalist, relationships expert and gardening specialist. His articles and advice have appeared in dozens of magazines, including exercise workouts in Shape, relationship guides for Alive and lifestyle tips for Lifehacker. In his spare time, he enjoys yoga and urban patio gardening.
Photo Credits
Wavebreakmedia Ltd/Wavebreak Media/Getty Images
Wavebreakmedia Ltd/Wavebreak Media/Getty Images
More Articles