Simple Household Products to Kill Ants
If you are having a problem with ants, you may not need to invest in insecticides or expose your family to unhealthy chemicals. Several simple household products can be used to kill ants.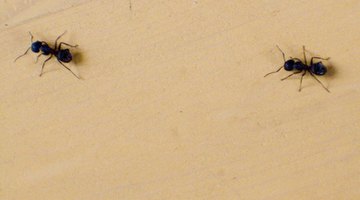 Boric Acid
According to Good Housekeeping, boric acid or borax powder can be sprinkled along ant trails and will kill any ants that eat it. Be sure to keep the mixture away from children or pets, because it is toxic.
Cleaning Products
Some cleaning products such as window cleaner can kill ants on contact without residual toxicity, according to the University of California Department of Agriculture and Natural Resources.
Peppermint Soap
Kill ants naturally by spraying them with liquid peppermint soap diluted in a squirt bottle. This solution will keep the area smelling fresh and discourage ants from returning.
Mouthwash
Antiseptic mouthwash kills ants when sprayed in their tracks. Pour full-strength antiseptic mouthwash into a spray bottle to use this method of killing ants.
References
Writer Bio
Valerie Dansereau has experience writing both fiction and nonfiction. Her writing career began with writing stories for confession magazines. She has written a wide variety of online articles about health, home business, parenting and self-help. She attended Fitchburg State College in Massachusetts and has over 20 years of banking experience, including writing loan operations manuals for two banks.
Photo Credits
ants marching image by berean from Fotolia.com
ants marching image by berean from Fotolia.com
More Articles