Home Remedy Fly Repellent
Flies are pests that spread germs and even feed on humans and animals. They are also a pain to get rid of. However, there are ways to repel flies with home remedies without the use of chemical pesticides.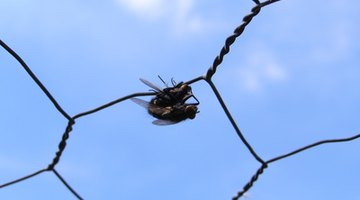 Cucumbers
Cucumbers are a natural repellent that act against flies, ants and virtually any kind of pest. Slice cucumbers and place them around the exterior of the home to repel flies from those areas, and in the interior of the home to drive out any existing flies.
Mint and Basil
Mint and basil are natural fly repellents. Plant them around the exterior of your home or any areas where flies are a problem. These plants will help keep flies away.
Bay, Cloves, Pennyroyal, and Eucalyptus
Crush bay, cloves, pennyroyal and eucalyptus leaves in equal amounts. Place the concoction in plastic bags and hang them on doorhandles, or sprinkle the mixture around the exterior of your home or any areas where flies are present.
References
Writer Bio
David Arnold became a freelance writer in 2004. He has worked as a phlebotomist and world traveler for more than 8 years, accruing a wide range of medical and travel knowledge. David enjoys writing about travel, DIY projects and health related topics. He attends the University of Missouri St. Louis and South Western Illinois College in pursuit of a nursing degree.
Photo Credits
flies mating image by Lytse from Fotolia.com
flies mating image by Lytse from Fotolia.com
More Articles