Pipe Wind Chimes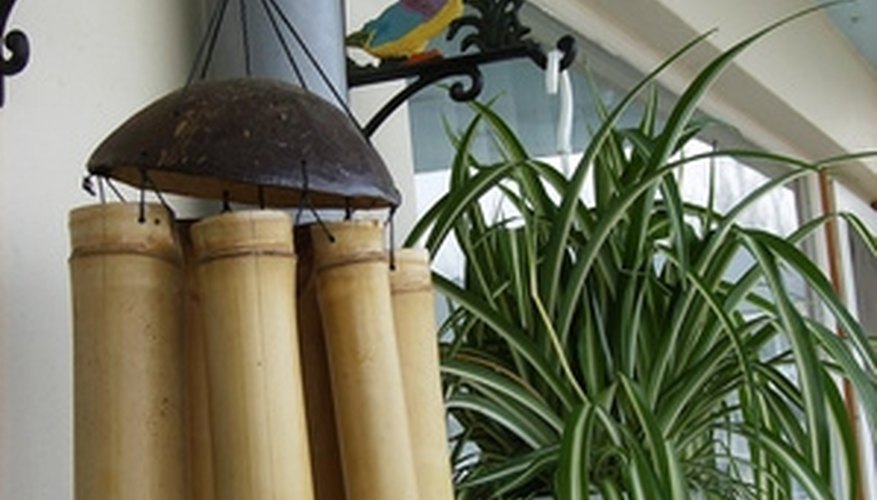 The types of wind chimes vary from perfectly tuned pipe wind chimes to chimes designed to enhance your feng shui to whimsically eclectic wind chimes that are filled with character. The basic components of any set of wind chimes are a hanger, a header and strands containing the decorative and musical elements.
Pipe wind chimes have a range of tones based on the length and thickness of the pipes as well as the pipe material. Pipe wind chimes are considered a percussion instrument; some have a deep resonant sound and others chime with a light tinkle. Pipe wind chimes and kits are available based on the specific type of sound you prefer.
Bamboo Wind Chimes
Bamboo wind chimes are made from length of dried bamboo stalk. The dried stalks are typically between 1/2 and two inches in diameter and cut to varying lengths. Bamboo wind chimes are quieter than pipe wind chimes; the bamboo stalks make a soft rattle when they clang together, as opposed to the bell-like ring of pipe wind chimes.
Seashell Wind Chimes
Another quieter type of wind chimes are those made from seashells. Real shells with drilled thread holes or seashell beads that are sold in bulk are the building blocks for these decorative wind chimes. The seashell strands make a clicking sound when they meet as the wind blows.
Beaded Wind Chimes
Another type of wind chime with a softer sound are beaded wind chimes. Glass, crystal or ceramic beads hold up well in an outdoor environment, making them a good choice for wind chime strands. Beads can be the primary component for the chimes or they may be added in conjunction with bamboo, craft bells, crystals, seashells, utensils and other wind chime elements.
Eclectic Wind Chimes
Eclectic wind chimes may be created with old utensils, small cow bells, craft bells, vintage jewelry and anything else small enough to dangle from a block of wood or a craft ring. Wind chime strands hanging from a craft ring should be perfectly balanced or the chimes will be lopsided. Hanging items from a block of driftwood or other solid wood header offers more flexibility in the weight of each strand; attach each strand to a screw eye hook underneath the wood and slight weight variances will not impact the chimes. It's also important that you hang the wood header from each end, not from the center.