Stains That Are Safe for Playsets
Wooden playsets will last for years with proper care. Playsets usually come already stained, but this initial coat is generally not enough to maintain the look or function of the playset over the years. Without proper treatment, a playset can quickly begin to show wear and tear, eventually breaking down, causing splinters and compromising the safety of the structure. Protect your investment with a safe stain.
Wolman Stain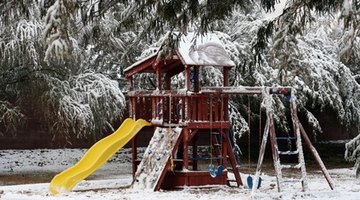 Wolman water-based water repellent protects playsets and children. The durable acrylic film covers rough wood, leaving a smooth finish that keeps kids from getting splinters. It is recommended that you apply two coats of the Extreme or deck stain product line.
Weather Bos
Weather Bos is a safe oil finish that can be applied to counteract the deterioration process. It will protect against mold, mildew, fungus, dry rot and weathering. Its natural oils are environmentally safe and long-lasting. Cover high-traffic areas once a year for the best results.
SoyGuard
Ninety percent of SoyGuard is derived from soybean oil, making this stain a sure winner in the safety department. The other 10% is recycled polypropylene. This product provides protection against warping, weathering and water damage. The soybean oil deeply penetrates the wood, and the polyproplylene encapsulates the wood fibers, creating a strong layer of sealant for your playground.
References
Resources
Photo Credits
More Articles