How to Clean Bruce Hardwood Flooring
Engineered, prefinished hardwood floors, like those from Bruce, are an easy way to add warmth and natural beauty to any home. Just like any other hardwood floor, an engineered, prefinished floor needs proper care and maintenance to keep it looking good. Cleaning a Bruce hardwood floor is a matter of applying a few common cleaning techniques, but the reward is a lifetime of beauty.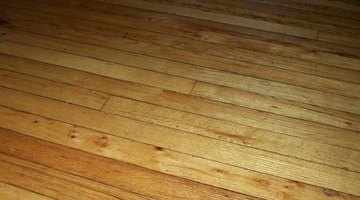 Use a vacuum, broom or dust mop once a week or more to pick up dust and dirt. Make sure the bristles on the broom and vacuum attachment are soft to avoid scratching the wood's surface.

Pick up spills and tracked-in dirt immediately with a soft cloth and the recommended cleaner. Excess liquid can seep into the cracks between planks and cause the fibers in the wood to swell. Ground-in dirt and debris causes scratches and abrasion to the floor.

Clean the entire floor periodically with a recommended cleaning product. Do not let a liquid stand on the floor for too long.

Avoid harsh chemical cleaners like ammonia, bleach or harsh detergents. These cleaners are harmful to the floor's finish. Even vinegar and oil soaps can damage the finish. Unlike traditional hardwood floors, prefinished floors do not need polishes or waxes.

Use touch-up kits and special finishing products from the manufacturer to repair scratches and abrasions on the floor.
Resources
Tips
Make sure to read the care and maintenance instructions that come with your Bruce hardwood flooring. Use area rugs and doormats made of breathable material (no rubber backing) in front of sinks and work areas or in heavy-traffic zones.
Writer Bio
After attending the University of California at Los Angeles, M.A. Koch began her career as an associate producer on a daily talk show, spending her days researching a variety of topics. Now as a writer living in Southern California, she's continues to research and produce online content for Demand Studios.
Photo Credits
Bamagirl / morguefile.com
More Articles