Will Vinegar Harm Laminate Floors?
Laminate floors are popular in many homes because of the wide variety of available finishes and the durability of the product. Regular cleaning helps keeps laminates in good condition for decades. Homemade cleaners made with vinegars effectively clean laminate floors.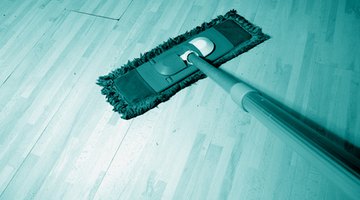 Vinegar vs. Other Cleaners
A homemade, vinegar-based cleaner is safer for use on laminate floors than any soap-based cleaner. According to the Discount Flooring website, soap and wax-based cleaners can dull the finish and damage laminate.
Homemade Remedy
Make a homemade laminate floor cleaner by mixing together 1/4 cup of white vinegar with about 24 oz. of water in a 32-oz. spray bottle, recommends the Dollar Stretcher website.
Using Cleaner
Spray the floor with the vinegar and water mixture and mop with a dry, dust mop. Be sure to avoid flooding the floor with water and vinegar. Excessive moisture may damage the floor, according to the World Floor Covering Association website.
References
Photo Credits
floor cleaning #3 image by stassad from Fotolia.com
floor cleaning #3 image by stassad from Fotolia.com
More Articles