How to Mix Ammonia and Borax
Homemade cleaners are not only economical, they also can be a safer alternative to commercial cleaners loaded with chemicals. Ammonia and borax, for example, are cheaper and more versatile than commercial cleaners and are common items in many homes. Ammonia and borax can combine into a cleaning solution as well.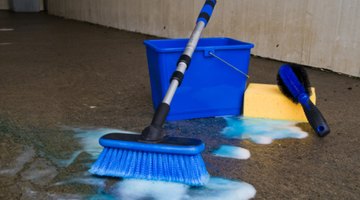 Mix the two together to clean a variety of surfaces in and around your home.
Things You Will Need
5-gallon bucket
Long-handled spoon
Sponge
Cloths
Dish soap
Nylon scrubber
Lint-free towels
Dust mop
Sponge mop
Wall Cleaner
Pour 2 qt. cool water in a 5-gallon bucket. Add 1 tsp. clear ammonia and 2 oz. borax.

Stir the mixture with a long-handled spoon until the borax dissolves. Dampen a clean sponge in the mixture. Start at the bottom of the wall and begin scrubbing while moving upward.

Wipe the wall clean with a cloth dampened in cool water and let air-dry.
Oven Cleaner
Add 1 1/2 cups cool water in a 5-gallon bucket. Pour 2 tbsp. borax, 2 tbsp. dish soap and 1/4 cup clear ammonia into the water. Mix with a long-handled spoon.

Use a clean cloth to saturate stuck on food and grime with the mixture. Let the mixture sit on the grime for 20 to 30 minutes.

Remove the loosened grime from the oven surface with a nylon scrubber. Rinse the mixture off with cool water. Wipe dry with a lint-free towel.
Floor Cleaner
Remove surface debris from the floor with a clean dust mop.

Mix 1 gallon lukewarm water, 1/3 cup borax and 1 tbsp. clear ammonia in a 5-gallon bucket.

Dampen a sponge mop with the mixture. Place the dampened mop head on the area of the floor farthest away from the entrance.

Mop the floors with the sponge mop and mixture in a back-and-forth motion. Rinse the mixture off the floors with the mop and cool water. Dry with a lint-free towel.
References
Writer Bio
Amanda Flanigan began writing professionally in 2007. Flanigan has written for various publications, including WV Living and American Craft Council, and has published several eBooks on craft and garden-related subjects. Flanigan completed two writing courses at Pierpont Community and Technical College.
Photo Credits
Jupiterimages/Photos.com/Getty Images
Jupiterimages/Photos.com/Getty Images
More Articles