Cleaning Supplies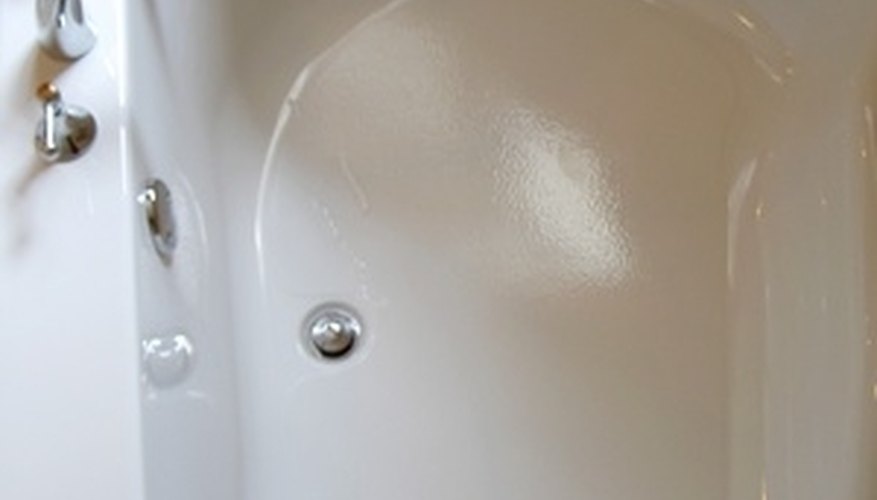 Refinishing revives a bathtub and returns it to its near original state. The process of refinishing a bathtub is not difficult as long as you have the right products for the project.
Before beginning the refinishing process, you must clean the bathtub, which includes removing soap scum and residue. This Old House, a home improvement website, recommends purchasing an alkaline emulsifier, which is a product used to remove wax from hardwood floors. Use this product first to go over the tub, and then clean the tub thoroughly with an acid-based citrus cleaning solution to mollify the emulsifier and complete the cleaning process.
Trowels Fiberglass Putty
Once the bathtub is completely clean, imperfections sometimes are revealed. Trowels fiberglass putty, used to remove scratches from vehicles, also hides and corrects minor flaws on fiberglass bathtubs. Liberally apply the product to cover scratches and grooves.
Sandpaper and Electric Sander
After the putty has time to dry, use coarse sandpaper to sand away excess putty. Once the excess putty is gone, use a feather sandpaper to sand down the entire tub. Repair Home, a home improvement website, proposes using a palm sander for this step, although you can perform it manually. The advantage of using a palm sander is that it pulsates, which helps to roughen up the tub to prepare it for the next step of applying a bonding agent.
Adhesive
An adhesive (or bonding agent) is a product used to seal the tub prior to painting. Adhesive helps the paint stick to the fiberglass and prevents peeling and cracking with use. This Old House recommends a product called Miracle Method because it does not require you to sand down the tub for the surface to provide an effective seal.
Paint and Applicators
Although a number of color options exist to complement most bathroom decors, select a paint that provides a resilient finish, such as acrylic polymer or acrylic urethane enamel. Both of these paints perform well on most kinds of bathtub surfaces. Acrylic polymer paint is an option for tile bathtubs or if you prefer a bathtub with a glossy finish.