Suspended Ceiling Light Fixture Support Requirements
Home designers most commonly use suspended ceiling lights in places like entryways and dining rooms where a lower hanging fixture will provide the lighting needed. Shop lights, chandeliers, ceiling fans and pendant light fixtures may require different support systems, depending on the weight of the fixture. A number of different types of mounting boxes and devices are available.
Lightweight Fixtures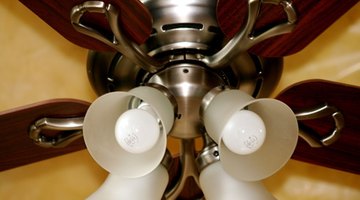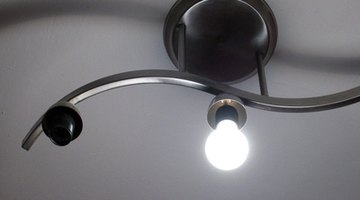 Standard junction boxes, designed to be nailed to ceiling joists, are appropriate for very lightweight lighting fixtures, such as flush-mounted fixtures.
Medium Weight Fixtures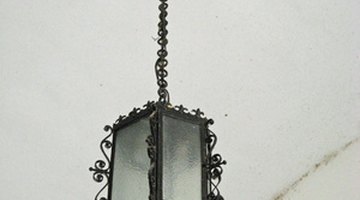 Junction boxes with expanding devices on the sides and Madison hangers are generally recommended for use with lighting fixtures less than 50 pounds. This recommendation results because of the relatively small area to which they anchor. Most chandeliers and ceiling fans are too heavy for this type of hanger, although they are appropriate for some pendant light fixtures. Don't over-tighten the expanding device; the tension it puts on the joists can cause nail pops in the drywall below
Heavyweight Fixtures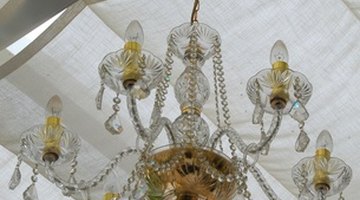 Chandeliers range in size but are generally considered heavy to very heavy. You should secure hanging light fixtures, such as chandeliers and ceiling fans, to the house's permanent structure. You should suspend lighting fixtures weighing between 50 and 100 pounds with a mounting bar that has an expanding feature. This expanding feature allows you to tighten the bar between ceiling joists. Remember to leave enough clearance to attach an electrical box to the bar. The bottom of the box should be flush with the ceiling surface.
References
Photo Credits
Ceiling Fan image by Towards Ithaca from Fotolia.com
ceiling light view3 image by askthegeek from Fotolia.com
old lustre image by Nino Pavisic from Fotolia.com
Chandelier image by TekinT from Fotolia.com
More Articles