Tiger Foam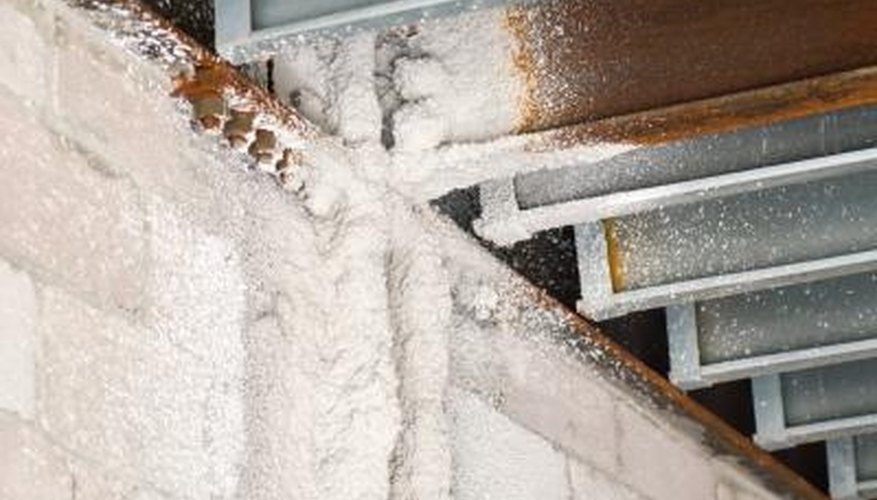 Spray foam insulation is used in both residential and commercial applications, including aircraft, building construction, air conditioning, crawlspaces, noise control and pipe insulation. While many insulation foams are sold in do-it-yourself kits, taking precautionary safety measures--such as reading MSDS sheets and wearing appropriate clothing and breathing gear--is an absolute must.
Tiger Foam Spray Foam is a polyurethane insulation foam that is produced by the Commercial Thermal Solutions, Inc. Corporation, headquartered in Spring Lake, New Jersey. While this corporation formed in 1995, the company broke into the construction industry in 2001 with the introduction of such products as polyurethane insulation foams and safety equipment, such as respirators and safety suits. Tiger Foam comes in various slow or fast-rise formulas for indoor and outdoor use. The E-84 formula specifically contains a self-extinguishing fire retardant. Tiger Foam comes in do-it-yourself kits with small tanks, hoses, nozzles, tips and instructions. Tiger Foam kits are sold in various hardware stores, as well as online distributors.
Icynene
Icynene is one of the leading brands of spray foam insulation. A Canadian company, Incynene Inc. started in 1986 and sells its product in more than 30 countries. Within the last ten years alone, over 3 billion board feet of Icynene insulation foam has been fitted in various projects around the globe. Icynene Inc. produces three formulas of insulation foam: Icynene LD-C-50 is a light density spray. Icynene LD-R-50 is castor oil-based product that has garnered many awards from "green" organizations and magazines. Finally, Icynene MD-R 200 is a medium-density spray with some recycled ingredients. Icynene Inc. also produces a do-it-yourself spray kit.
Owens Corning
Owens Corning (previously called Owens-Corning Fiberglas Corporation) was established in 1938 and continues to sell glass-fiber and foam insulation products on an international basis. Owens Corning, which is a Fortune 500 company, produces over a dozen formulas of insulation spray foams, each designed for specific applications. For example, Thermapink spray insulation is recommended for residential and commercial roofing while Durapink is formulated for use in roof repair. Other foam formulas include Formular, ProPink, InsulPink, Insul-Drain and Pink Core. This company's trademark pink foam is its signature feature.
Other Brands
Other brands of spray foam insulation include Fomo Foam, Foam It Green, 3M, Dow Chemical Co., Kwik Foam, Touch 'N Seal, CertaSpray and HandiFoam.