How to Remove Glued Down Engineered Hardwood Flooring From a Wood Subfloor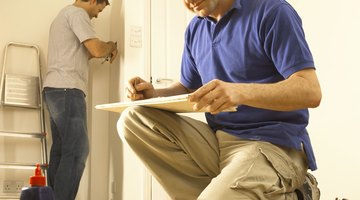 Engineered hardwood flooring consists of multiple layers of wood, including the wear layer, which you walk on. The wear layer can be sanded and refinished a finite number of times before the layers underneath begin to show through. Whether your engineered floor is worn out or you just want a style update, removing it can be a challenge, particularly when it is glued to wood subfloor. Sometimes, however, installing a layer of flooring over the engineered hardwood is not an option. In those cases, the glued-down flooring can be removed, but the process is labor-intensive.
Step 1
Make cuts every 2 to 3 inches perpendicular to the direction of the flooring with the depth of your circular saw's blade set to the thickness of the flooring. If your flooring consists of small square tiles, such as a parquet floor, you can skip this step.
Step 2
Pry up the sections of flooring. Depending on how firmly the flooring is glued down, you may want to use a variety of tools. A hammer and chisel will pry up stubborn pieces, while a long-handled pry bar is easier on the back.
Step 3
Remove any glue remaining on the subfloor. Depending the glue's adhesion, you may need to use a variety of tools. A hand scraper with a long handle will, ideally, remove most of the glue. For sections that are more difficult to clean, consider a scraper attachment for a reciprocating saw. Rent a walk-behind power scraper for extremely large areas.
Tip
Adhesive removers can be used to help loosen up glue on the subfloor; however, many of these products leave behind a residue that can bleed through the new floor and affect its adhesion. Check your new floor's warranty before pursuing this option.
Things You Will Need
Circular saw
Hammer
Chisel
Long-handled prybar
Putty knife
Scrapers
Reciprocating saw
References
Writer Bio
Matt Brown has been writing professionally for more than 15 years. He shares his experience in home remodeling and do-it-yourself projects with his readers. Brown earned his bachelor of arts in communications from Marist College in Poughkeepsie, N.Y.
Photo Credits
BananaStock/BananaStock/Getty Images
BananaStock/BananaStock/Getty Images
More Articles