How to Stain Wicker or Rattan Furniture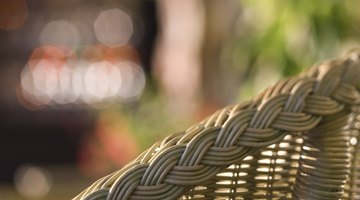 Wicker is a broad term for a type of woven furniture that's made from vines, plants or grasses. Rattan is a type of wicker furniture made from vines, and it's usually stained and sealed. If the finish on your rattan or wicker furniture looks dull or faded, it can be stained to restore its color and shine. Even unfinished wicker can be stained to match any existing decor. This project takes several days, so plan ahead and make sure you have a place to keep the furniture where it won't be touched or disturbed while you're in the process of staining.
Step 1
Move the furniture to an outdoor location or a well-ventilated area indoors, away from kids or pets. If you're working indoors, lay down a drop cloth beneath the furniture to protect the floor and open any windows or doors. Wear a particle mask and gloves while working.
Step 2
Mix 1 part turpentine to 2 parts boiled linseed oil in a container. Brush it onto the furniture, coating all areas thoroughly. Make sure to get the mixture into all of the cracks and crevices. Leave the furniture to dry for a few days. Blot excess oil that rises to the surface with a lint-free cloth.
Step 3
Mix a can of oil-based stain in a color of your choice with a paint stirrer. Apply a thick coat of stain over the furniture with a paint brush, getting into all of the cracks and crevices. Allow it to sit on the wicker for up to 15 minutes, then wipe off the excess with a lint-free cloth. If the color isn't deep enough, apply more stain after 4 hours, then wipe off the excess. Allow the stain to dry for 8 hours or longer, until it feels dry to the touch.
Step 4
Apply two lights coats of clear lacquer or varnish over the stained, dried furniture using a paint brush, allowing it to dry between coats. Avoid handling the furniture until its completely dry. Check the label for drying times because it varies by manufacturer and type.
Tip
Maintain the appearance of your wicker furniture by vacuuming it with a soft-bristled brush attachment. Mix mild detergent and water to make suds. Dip a sponge into the suds and wipe the furniture to remove any dirt. Don't soak the furniture with water. Use a brush for smaller crevices. Wipe off the suds with a clean, damp sponge.
Warning
Keep stains, varnish, lacquer, boiled linseed oil and other solvents away from children, pets and sparks or flames.
Things You Will Need
Drop cloth
Particle mask
Rubber gloves
Turpentine
Boiled linseed oil
Container
Paint brushes
Lint-free cloths
Oil-based stain
Paint stirrer
Clear lacquer or varnish
References
Writer Bio
Shelley Marie has been writing professionally since 2008 for online marketing and informational websites. Her areas of expertise include home, garden and health. She holds a Bachelor of Science in business administration and an associate degree in medical billing and insurance coding, both from Herzing University.
Photo Credits
Thinkstock/Comstock/Getty Images
Thinkstock/Comstock/Getty Images
More Articles