What Are the Three Main Types of Mirrors?
Mirrors can be separated into three basic categories, all of which reflect light and images in different ways. An image in a mirror may appear to be larger, smaller, closer or more distant than it really is. The reflection of that image may also be a virtual image, reversed or upside down.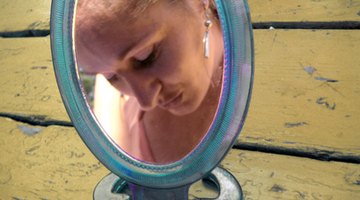 The three primary types of mirrors are plane, concave and convex.
Plane Mirror
A plane mirror is flat, reflecting light rays in the order they are received. The image seen in a plane mirror will appear to be backward, as it is reversed left to right. An object's size and distance will be the same in a plane-mirror reflection as it is in reality.
Concave Mirror
The light rays that strike a concave mirror come together at a fixed point. The hallmark of this type of mirror is that the reflective surface resembles the interior of a bowl, bending inward. A concave mirror is thicker at its edges than at its center, and produces images that appear larger than they are in reality.
Convex Mirror
The reflective surface of a convex mirror bends out, like the exterior profile of a bowl. Objects seem smaller than they really are when reflected in convex mirrors. They will appear to be upright if the mirror is held very close to a person's eyes. Move the mirror a few feet away and the object will be inverted. A convex mirror is thicker at its center than at its edges.
References
Writer Bio
Jack Hugo has written professionally since 1984 for publications such as "Playboy," "Missouri Life" and "USA Today." He is the former owner of five restaurants, and the author of two travel guides published nationally by WW Norton. He holds a Bachelor of Arts in history from the University of Missouri-Columbia.
Photo Credits
mirror,mirror... image by Catabu from Fotolia.com
mirror,mirror... image by Catabu from Fotolia.com
More Articles