What Is a Cheval Mirror?
A cheval mirror is an elegant and functional addition to almost any room. But what exactly is a cheval mirror and where can you find one? Here is all you need to know about this classic piece.
Identification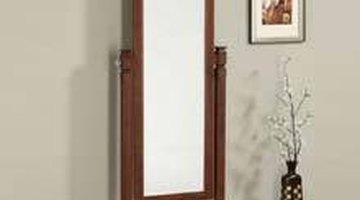 A cheval mirror is a full-length mirror encased in a decorative frame that is attached to a large supporting base by a set of swivel screws. The supporting base consists of two vertical bars held up by a pair of feet. This base is also called a horse, or "cheval" in French, and it allows the mirror to stand freely, while the swivel screws allow the angle of the mirror to be adjusted. A cheval mirror is typically made of woods like oak, mahogany or cherry, however versions can also be found in materials like wrought iron and steel.
History
The cheval mirror, also called cheval glass, was first made in the 1700s. Originally known as a dressing mirror, it was created for use in bedrooms and dressing rooms, as the adjustable angle allowed one to see one's dress from head to toe. By the end of the eighteenth century, the cheval mirror was very popular, and all of the era's leading furniture designers had developed their own cheval mirror design, featuring different decorative frames and carved wood embellishments. But, as furniture design evolved, mirrors were mounted on armoires and wardrobes in an effort to save space, and the cheval mirror lost some of its popularity.
Benefits
The cheval mirror's ability to swivel makes it extremely functional, as its angle can be adjusted to allow you to view yourself from head to toe no matter how tall or short you are, or how close you are standing to the mirror. This is an ability that a full-length mirror mounted to a wall does not have. In addition to being an efficient way to check your wardrobe, however, a cheval mirror is also a classic piece of furniture that adds a decorative touch to a bedroom, dressing room, or even a dining or living room.
Where to Find One
The cheval mirror can be found at most major furniture retailers, like Pottery Barn and Ethan Allen, as well as online from sites like CSN Mirrors and One Way Furniture. Prices range from under $100 in stores like Target, to close to $5,000 from designers like Charles Shackleton, so be sure to do your research before making a purchase.
Fun Fact
In his 1803 edition of "The Cabinet Dictionary," English furniture designer Thomas Sheraton featured a design for a cheval mirror with a set of drawers on one side, as well as one with a writing surface.
Resources
Writer Bio
Kristen L. Depken is an editor for a large children's book publisher in New York City. She holds a Bachelor of Arts in English from The College of New Jersey and currently maintains the Upper East Side Scene blog on uppereast.com. In her spare time, she loves to read, write, and explore Manhattan.
Photo Credits
Cheval Mirror courtesy of Flickr
More Articles