Tradition of a Rooster in Kitchen
The bright pottery, clay pitchers, stencils, dishtowels and other rooster images found in kitchens call up visions of Tuscany, rural farms, Asian calendars and early mornings.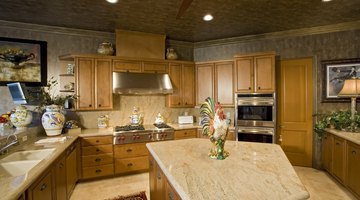 Rooster-shaped jugs and rooster-painted mugs are cheery, informal clayware, inspired by magical, mystical and miraculous stories of what happens when a rooster crows. Add dynamic rooster decor to your kitchen for a touch of tradition and maybe a little extra luck.
Un Gallo en La Cucina
In Italy, everything seems connected to the Medici, and the rooster tradition is no exception. Popular legend has it that assassins in 15th-century Florence targeted Guiliano de'Medici but, as they approached his palazzo, the loud crowing of alarmed roosters foiled the attack. In gratitude, and probably to publicize his invincibility and send a message to future assassins, Medici had hundreds of glazed clay wine pitchers made in the shape of roosters and distributed to the citizens of Florence. The intersection of good fortune and good politics produced an enduring artifact that is a staple of Tuscan decor today. Roosters are also painted on platters, mugs, bowls and on decorative tile used for backsplashes.
The Barcelos Rooster
Portuguese roosters are at least as helpful as Italian birds. Centuries ago, the story is told, a pilgrim traveling to the shrine of Santiago de Compostela was arrested in Barcelos for a serious crime and condemned to death. All his protestations of innocence fell on deaf ears, so, as he was on his way to the gallows, he begged to plead for his life one more time. The judge, dining on a fine roasted bird with friends, was resolute. In desperation, the pilgrim pointed to the cooked rooster and cried out, "As sure as I'm innocent, so will that rooster crow!" This made no impression. However, as the noose was placed around the man's neck, the judge's main course stood on its platter and crowed. Case dismissed. From that day, the Barcelos rooster has been a symbol of luck that shows up in wood carvings and the same types of pottery and other kitchen decor produced in Italy.
Global Gallo
The rooster -- farm alarm clock and bane of any urban or suburban neighborhood -- is a ubiquitous symbol of good luck in every corner of the globe. Centuries' old Swedish wood carvings in a museum depict the Dala Tupp, a lucky rooster made in the artisanal tradition of the Swedish Dala Horse. The animals are still carved from wood scraps by village men, who then take the carvings to a factory to be painted, often with decorative bursts of colorful flowers. Most of the luck attached to showy animals like the rooster has to do with prosperity and protection. In China, the rooster is one of the 12 zodiac animals and symbolizes good fortune, honesty, industriousness, gregariousness and a tendency to attract outsize attention. American settlers probably brought their own rooster traditions to their new homes -- the rooster is the subject of coastal Gullah folktales, and decorated painted cupboards in rural farm kitchens.
Rooster Decor
A lively rooster or two will perk up your country kitchen when the image is embroidered on dishtowels, installed behind the stove as a mosaic tile backsplash, stenciled on wood stools around the kitchen island or at the breakfast bar, framed as a cheerful poster or printed on the cafe curtains. Arrange graduated rooster ceramic pitchers along the window ledge over the sink. Hang a rooster oven mitt on the stove handle or fasten the grocery list to the fridge with a rooster magnet. Rooster-painted platters are decorative in a glass-front cupboard, and rooster dishes double as wall art. Carved wood roosters perch on open shelves, and rooster calendars help you to keep track of the passing days. You can't go wrong with a rooster in the kitchen decor -- but you can go off the deep end. If one rooster is typically enough for a barnyard, a single feathered cock-of-the-walk is probably enough luck and bluster for one kitchen.
Resources
Writer Bio
Benna Crawford has been a journalist and New York-based writer since 1997. Her work has appeared in USA Today, the San Francisco Chronicle, The New York Times, and in professional journals and trade publications. Crawford has a degree in theater, is a certified Prana Yoga instructor, and writes about fitness, performing and decorative arts, culture, sports, business and education .
Photo Credits
IPGGutenbergUKLtd/iStock/Getty Images
IPGGutenbergUKLtd/iStock/Getty Images
More Articles