Workplace Safety: Proper Disposal of Razor Blades
Razor blades are an essential part of many everyday business tasks. One of the crucial aspects of using them is to make sure that they are properly disposed of after they have become dull.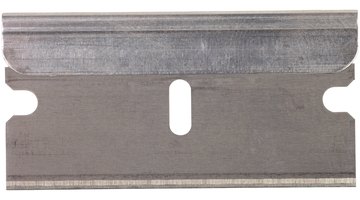 Hazards
Razor blades that are disposed of incorrectly can cause numerous hazards in the workplace. If they are left laying around, people can get stuck or stabbed by them, causing injury. Janitors and other maintenance personnel that collect garbage bags can be hurt by blades thrown into a trash can. These injuries can be prevented by putting used razor blades in the correct receptacle designed for the disposal of sharp items. Razor blades should be re-covered before disposal. Companies should begin by assessing when, how and where the blades are used and then outline disposal procedures.
Sharps Containers
Sharps containers are specially designed to hold needles, razor blades and other sharp objects that can expose others to injury or biohazards. These containers should be located near areas where such objects are commonly used. The boxes should also be within easy reach and readily recognizable to workers. Some sharps containers do not have to be emptied, but have lids that self-lock when closed. The entire container can be disposed of as a whole, but must be done according to federal guidelines.
Disposal
Sharps containers for the disposal of razor blades have to be sent to a facility to be emptied and returned sanitized. These containers should be closely watched so that they are changed out before they spill over, which can create hazards to workers. Setting up a monitoring schedule and ensuring that employees know the procedures for disposing of razor blades properly will help to make the workplace a safer environment.
References
Writer Bio
Erin Steeley is a full-time writer and freelancer who uses her background in education, sign language and art to create quality articles. She published her first book, "The Soldier and the Storyteller," in 2006. Steeley has a Bachelor of Arts degree in general studies from Pittsburgh State University.
Photo Credits
Hemera Technologies/PhotoObjects.net/Getty Images
Hemera Technologies/PhotoObjects.net/Getty Images
More Articles