Preserving Fence Life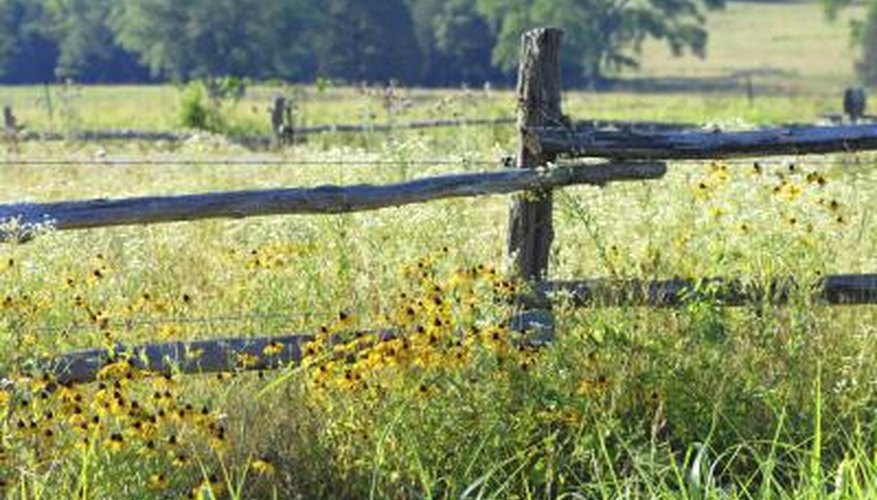 Important factors are the kind of wood in the fence, its height, whether it is solid or open, and the type of finish the wood has. The fence's style can range from rustic split rails and nostalgic picket fences to formal, elegant designs, and plants need to complement the style. Consider what type of maintenance the fence will need and choose plants that will not interfere with fence care.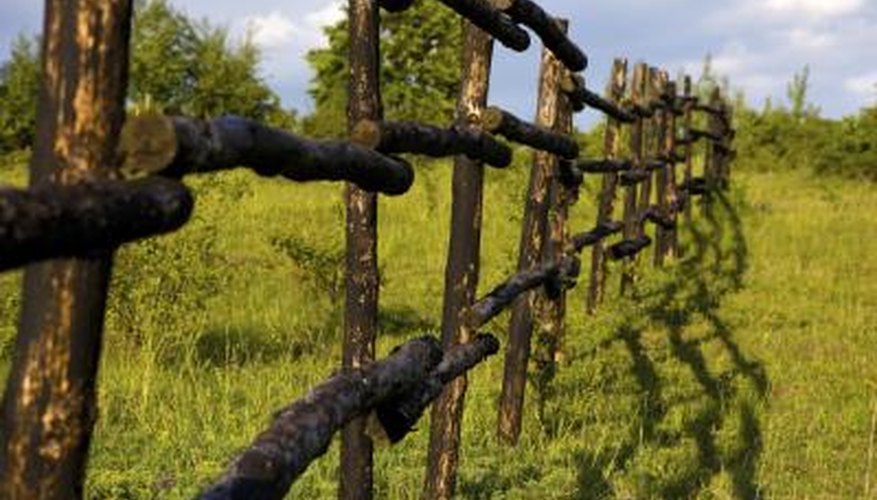 Wooden fences can rot with time under high moisture conditions. Choose rot-resistant woods and plants that don't have high water requirements. Don't put plants right against the fence but rather allow air to circulate, which prevents fungi from invading wood. Consider drought-tolerant perennial grasses such as dwarf fountain grass (Pennisetum alopecuroides "Hameln"), hardy in U.S. Department of Agrculture zones 4 through 11. It grows 2 to 3 feet tall with fluffy, light tan seed heads in late summer and russet foliage in fall. In warm-winter climates of zones 9 through 11, the bold, sculptural qualities of octopus agave (Agave vilmoriniana) complement wooden fences. Octopus agave has low water needs.
Solid Fences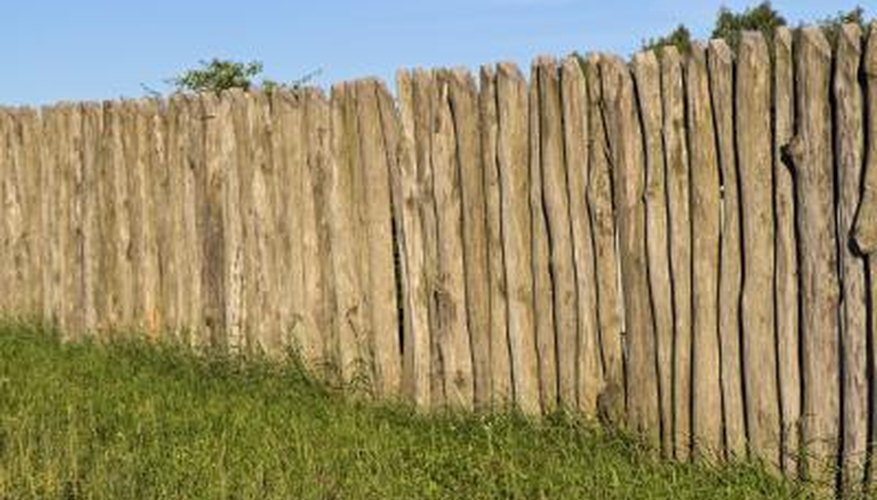 A solid fence alters wind flow and air circulation. The more sheltered environment close to the fence can provide a microclimate for more tender plants. A fence that faces south, east or west has good sunlight for plant growth most of the time. Choose plants with open form that won't overwhelm the fence, such as dwarf heavenly bamboo (Nandina domestica "Compacta"). It provides red berries and foliage in fall and winter and creamy sprays of spring flowers. Plants grow in USDA zones 6 through 11, and are 5 feet tall by 3 feet wide. North-facing solid fences have virtually no sun. Choose shade-loving plants such as hostas (Hosta spp.) or ferns. Christmas fern (Polystichum acrostichoides) tolerates dry to medium water conditions and is low-maintenance. Hostas and Christmas fern grow in USDA zones 3 through 9.
Open Fences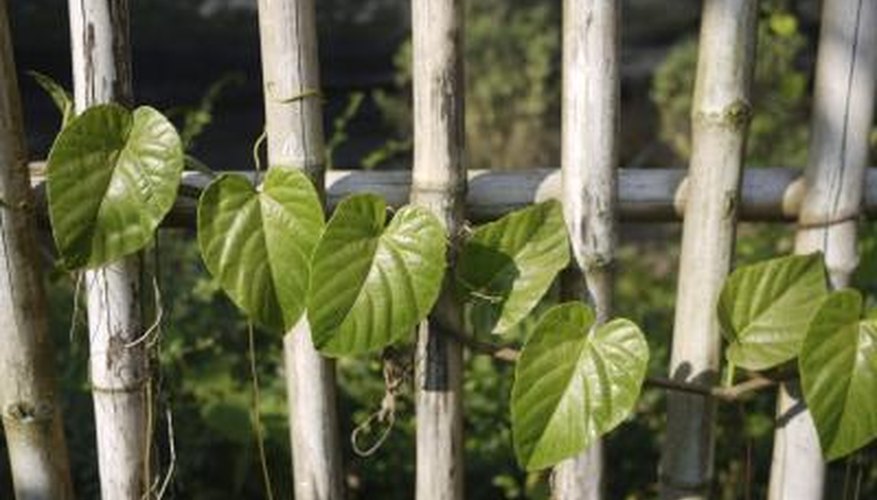 Open wooden fences provide opportunities to display vines. For high-maintenance fences, choose annual vines such as red-flowered cypress vine (Ipomoea quamoclit), hardy in USDA zones 11 and 12. Ornamental gourds (Cucurbita pepo), cucumbers (Cucumis sativa) and peas (Pisum sativum) are annual crops that grow well on wooden fences. Native passion flower (Passiflora incarnata) is a perennial that dies back in winter in cooler climates. Intricate, showy flowers attract butterflies in summer. Growing in USDA zones 5 through 9, the vine grows quickly to 8 feet tall. An evergreen vine suitable for fences that don't need maintenance, Carolina jasmine (Gelsemium sempervirens) has fragrant, trumpet-shaped yellow flowers in spring. It is hardy in USDA zones 7 through 9.
Picket Fences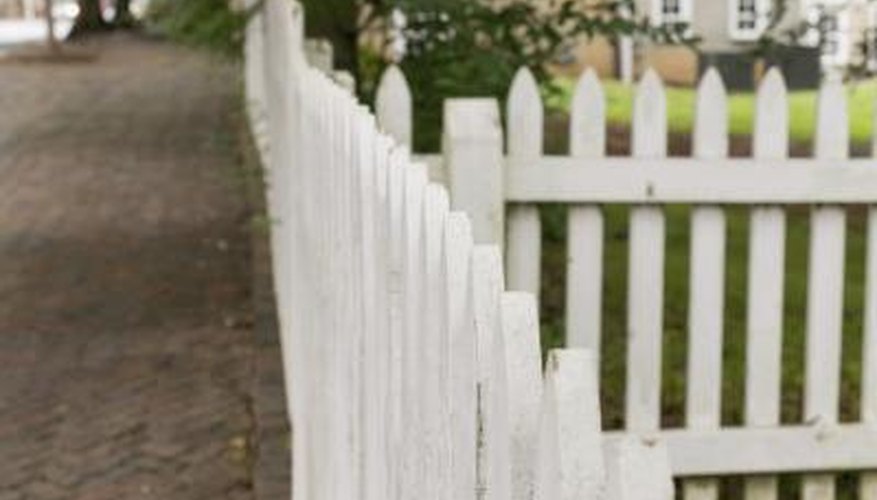 Picket fences are traditionally about 4 feet tall and painted white. They invite use of colorful cottage garden perennials that can be glimpsed through or above the fence. "Becky" Shasta daisy (Leucanthemum "Becky") rises to 40 inches tall in USDA zones 4 through 9. Coneflower (Echinacea species) bears purple to lavender showy flowers on 3- to 6-foot-high plants from summer into fall in USDA zones 3 through 8. In USDA zones 5 through 11, plant fragrant English lavender (Lavandula angustifolia). Reaching 3 feet tall and wide, English lavender varieties have purple, lavender, pink or white flowers.