How to Make Your Own Cardboard Box Closet Organizer
If you've just moved into a new residence, there's a good chance you won't feel like spending the money to buy a prefab closet system. Instead of getting rid of all those packing boxes, use them to make your own cardboard organizer.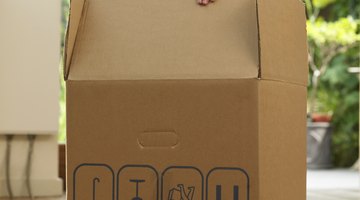 Begin to make your own cardboard shelves by folding the flaps of the cardboard cube into the box. This will add more stability to your boxes and help to keep them from collapsing.

Stack the boxes in your closet to make your own custom organizational system. Fitting the boxes tightly between walls will help stabilize them. You may need to rearrange the boxes until they fit well into the space. Smaller boxes will work better than larger boxes as they will be stronger and will not bend as much.

Use extra boxes to make small shelving units elsewhere in your closet or home. Place larger boxes on the bottom and smaller boxes on the top so that the stack does not become top heavy.

Add some decorative touches by store items in attractive baskets or other containers inside the boxes. Wrap cardboard shelves in fabric or decorative paper to dress them up.
Tip
Do not place items that are too heavy in cardboard boxes. Place the heaviest objects in the bottom boxes.
Warning
Cardboard boxes are not very sturdy and may fall. Do not use boxes in a child's room or where children play.
Writer Bio
This article was written by PocketSense staff. If you have any questions, please reach out to us on our contact us page.
Photo Credits
Michael Blann/Lifesize/Getty Images
Michael Blann/Lifesize/Getty Images
More Articles