How to Prevent Mold in a Bread Box
Mold can ruin your bread products. Once the mold has spread to your bread box, it could cause your food to become inedible. The elements needed for mold to grow are warm temperatures, moisture and a darkness. A bread box provides a perfect place for all of these conditions. Luckily, there are plenty of ways to stop mold before it starts inside of your bread box.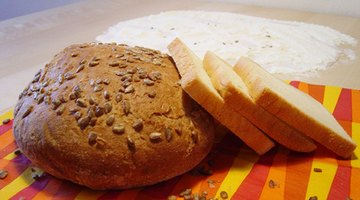 Step 1
Keep your kitchen clean and make sure all surfaces remain dry. Remove any debris and any old food that might support the growth of mold and its spores.
Step 2
Provide proper ventilation for your kitchen or the area where you store your bread box. This will prevent excess moisture from getting into your bread box.
Step 3
Eat your breads as quickly as possible. The longer your foods are inside your bread box, the likelier it is that mold will form.
Step 4
Keep your breads inside airtight bags and squeeze as much oxygen as possible out of the bags before closing them. Reducing exposure to oxygen will help prevent mold on the bread, and the airtight bags will keep any mold that does appear on the bread from spreading into your bread box.