How to Paint Fabric for Outdoor Use
Making your own outdoor cushions and decorative items can be an expensive endeavor, as specially-treated fabric that can withstand outdoor conditions such as sun and rain is expensive.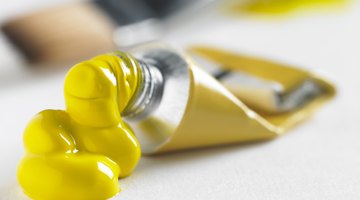 You can create your own custom outdoor fabric with fabric paint and specialized weatherproofing spray that provides the same level of protection against the elements while allowing you to save money. Creating your own fabric allows you to showcase your sense of style and fashion while updating the look of your outdoor space.
Purchase your fabric, making sure to purchase a cotton or cotton/polyester blend for best results. Heavy-duty fabrics, such as cotton duck designed for outdoor use, are especially appropriate for this type of project. Wash your fabric to remove the factory finish, making sure to not use fabric softener in the process. Dry and iron the fabric.

Purchase your paint and supplies at a craft supply store. Buy paints specifically formulated for use on fabrics, as they are formulated to stretch and bend with the fibers of the fabric and won't crack like normal paint. Purchase any stencils or design drawing tools you want and any brushes you'll need. Paint weatherproofing spray is most often located near the craft paints and if you have any questions, ask the store personnel for help.

Prepare the fabric for painting by placing it on a hard surface. Place a piece of cardboard behind the area on which you will be working and pin the fabric into place so it is tight and smooth. If you will be drawing any designs by hand, start sketching them out with your pencil. Line up your stencils if you have any.

Prepare your paints and test their color on a piece of scratch fabric. Let the test sections dry for at least one hour. If you are pleased with the color, start painting your main piece of fabric. When you are done painting one section, carefully adjust your fabric on the cardboard and move to the next section.

Let the paint dry completely for 24 hours in a well-ventilated area. Apply the weatherproofing spray according to the manufacturer's directions. Let dry for at least 72 hours before washing or using in a sewing or crafting project.
Things You Will Need
Heavy-duty fabric such as cotton duck
Cardboard
Pins
Fabric paint
Pencil
Paintbrushes, sponges, or other painting utensils
Stencils (optional)
Weatherproofing spray
References
Writer Bio
Based in the Pacific Northwest, Arin Bodden started writing professionally in 2003. Her writing has been featured in "Northwest Boulevard" and "Mermaids." She received the Huston Medal in English in 2005. Bodden has a Master of Arts in English from Eastern Washington University. She currently teaches English composition and technical writing at the university level.
Photo Credits
BananaStock/BananaStock/Getty Images
BananaStock/BananaStock/Getty Images
More Articles