How to Decorate Wood With Sharpies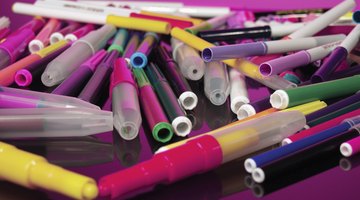 Sharpie offers a brand of permanent markers that you can purchase in a variety of colors and tip widths, which makes them an ideal craft tool. The markers are relatively affordable, and since you can use them on almost any surface -- even wood -- they're practical. Artists may enjoy free-hand drawing designs onto wood, but even if you can't draw, you can transfer designs on wood and create motifs or designs using Sharpies. Sharpies color any wooden object, even unfinished wood. Make Sharpie designs on wooden beads, bangles, decorative wooden bowls, wooden spoons and even furniture.
Decorating Wood With Sharpies
Step 1
Brush away sawdust or other debris from your wooden piece with a lint-free towel.
Step 2
Choose a design based on the shape and size of the wooden object. A large sunflower design fits a wooden bowl better than a bead. Intricate designs like stained glass give you a chance to use more color, but you can also make simple free-hand swirls or stripes.
Step 3
Use carbon paper to transfer your designs onto the wood. Gently place carbon paper on top of the wooden object. Lay the selected design on top of the carbon paper, design-side-up. Trace the design lightly with the pencil. Take care to trace all the lines.
Step 4
Color the design with Sharpies, outlining or filling in as desired. Use fine-tip Sharpies for small areas and wide tips for large areas. Allow the design to dry completely. Spray with a coat of clear varnish if desired.
Tip
Use an assortment of fine-, medium- and broad-tip Sharpies.
Tip
Sharpie also makes a line of paint markers. If the regular markers don't provide the coverage or the look you like, try the paint markers.
Tip
You don't need a printed design if you like to draw, sketch or doodle. Just use the wood as your sketch pad.
Warning
Test the Sharpies on a scrap piece of wood first. If the Sharpie bleeds, seal the wood with a workable fixative -- available at a craft store -- before drawing.
Warning
Use permanent Sharpies for coloring wood.
Warning
Monitor children when using permanent Sharpies. Child-safe Sharpies are available in water-based inks. The water-based inks are for paper and poster projects.
Things You Will Need
Wooden object
Lint-free towel
Designs
Carbon paper
Pencil
Assorted Sharpies, permanent ink
Spray varnish (optional)
References
Resources
Writer Bio
Ronna Pennington, an experienced newspaper writer and editor, began writing full-time in 1989. Her professional crafting experience includes machine embroidery and applique. When she's not repainting her den or making new holiday decorations, Ronna researches and writes community histories. She has a Bachelor of Arts in journalism and an Master of liberal arts in history.
Photo Credits
Medioimages/Photodisc/Photodisc/Getty Images
Medioimages/Photodisc/Photodisc/Getty Images
More Articles