How to Make a Gravestone Out of Concrete
Although it can be an emotionally difficult time for family and friends when a loved one passes away, an important consideration for burial arrangements can be the gravestone.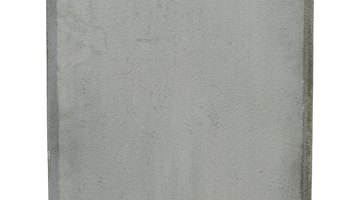 Purchasing a grave marker can be costly and time-consuming, and a more personal, simpler and cheaper alternative is to make a gravestone out of concrete.
If the gravestone will be used in a cemetery, check for any cemetery rules. Each cemetery has different requirements, sometimes even for different sections of the cemetery, regarding the size, material and color of gravestones. The information might also be found in the burial contract.

Decide on a size. A traditional size for a grave marker is 16 inches by 21 inches. Cut out a piece of paper the size of the stone and plan the words that will go on the gravemarker. This will give you an idea of how big the letters and numbers can be to fit on the stone. Start with the deceased person's name, date of birth and date of death. Consider whether you want to add any terms of endearment, such as "Beloved Son" or "Loving Father," or other inscriptions. Think about any other images or embellishments you'd like to have on the grave marker.

Collect your materials. Lay out the stone stamping letters and numbers just as they will appear on the gravestone. Spread out a plastic drop cloth or garbage bag on which to work.

Build a wood frame using the 2 by 4 pieces of wood, held together with screws and screwdriver so that you can easily remove it later.

Mix the concrete with water in the pan, according to the directions. It should be fairly thick, not soupy. You will need to shovel or scoop it in to the top of the frame. Smooth with a trowel.

Using letters and numbers for concrete stamping (available at craft stores), you spell out the person's name and birth and death dates by placing the letters and numbers in the cement and then quickly pulling them out. Add any other embellishments or images. Spraying the letters and numbers with a liquid baking grease helps. After stamping, immediately put the letters in the bucket of water and clean the concrete from them.

Let the gravestone dry into solid cement. After two days, unscrew the frame. Turn the gravestone over and allow the back to completely dry, if it hasn't already.

Things You Will Need

4 pieces of 2 by 4 wood
4 to 8 screws and screwdriver
Concrete mix
Pan or tub for mixing
Shovel
Trowel
Plastic drop cloth or garbage bag
Bucket of water
Ruler (optional)
Concrete letter and number stamps
References
Writer Bio
Based in the Washington, D.C. area, Ann Oldenburg has been a reporter/editor/author since 1990. She has written for publications including "The Washington Post," "USA TODAY" and "TV Guide." She has a Bachelor of Arts in journalism from the University of Florida.
Photo Credits
Hemera Technologies/PhotoObjects.net/Getty Images
Hemera Technologies/PhotoObjects.net/Getty Images
More Articles