How to Clean Prefinished Hardwood Floors
If you want to keep the shine and finish on your floor looking great, then prevention is as important as maintenance. Area rugs and mud rugs can help to keep the sand and grit from getting on the floor and wearing down the finish.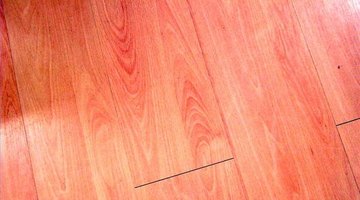 Keeping pet nails trimmed and taking shoes off at the door can make a big difference in the length of time you floor stays shiny. With these preventative measures in place, cleaning should be a breeze. It won't take long to clean your hardwood floor and anyone in the family can do it with ease.
Sweep the floor with a soft bristle broom. Hard bristles can eventually scratch the finish on the floor. Sweep the floor every evening and after you've had company. If you have area rugs, make sure to lift the edges and make sure there's no dirt stuck under them.

Use a slightly damp pad on a wood floor mop and go over the floor once a week. Use a damp rag to get any areas that are especially dirty and dry the floor in those areas.

Mix the hardwood floor cleaner that the flooring manufacturer recommended in a bucket of warm water. Use a sponge mop and wring out well. Mop the entire floor once a month. If you see any spotting from the water, dry the floor with a soft clean rag.
Things You Will Need
Bucket
Hardwood cleaner
Soft bristle broom
Hardwood floor mop
Rags
Tip
Wipe up spills immediately and clean with a hardwood floor cleaner right away.
Warning
Never wax a prefinished floor.
Never wet mop the floor.
Check out this related video.