How to Make Colored Concrete Pavers
Colored concrete pavers add visual interest to your garden path, driveway or patio. Create colorful patterns of your own design or use a monochrome approach. Making the pavers yourself is a way to save money, or you can purchase rubber forms in a variety of sizes and shapes.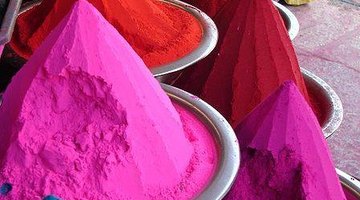 Choose from a wide variety of acrylic dyes to create the look you want.
Things You Will Need
1/2 inch wood
(12) 1 1/4-inch nails
Hammer
Motor oil
Concrete
Concrete dye
Plastic sheeting
Extra board (for flattening paver surface)
Decide on the size and shape of your paver. Heavy pavers are recommended as they're more stable, longer lasting and less likely to shift. A heavy paver should be at least two inches thick. Sketch out a pattern, and decide on the colors or color you want to use.

Go to your neighborhood hardware store or to a home-improvement store for the concrete, concrete dyes and the wood you'll be using for your frame. Have the pieces cut to the correct dimensions at the store. A square paver form made of 1/2 inch wood should have two shorter boards of the same dimension, and two boards that are each 1 inch longer, to create the perfect square when constructed.

Assemble a simple frame, creating joints at each corner with nails in three places at each joint. Dip a rag in motor oil and rub it along the full interior of the frame.

Set up a work area, complete with plastic sheeting and all the materials you'll need to mix the concrete and stir in the dye. Place the frame on the plastic sheeting.

Mix the concrete according to manufacturer's instructions. Add dyes while the concrete is wet, and stir it throughout the mixture. Follow all the directions on the packaging.

Pour the concrete into the paver form to the correct depth. Make sure the concrete is evenly spread. Use a tool for this purpose, or a board that's wider than the surface area. Allow the concrete to dry for the time that's stated on the package, typically two to three days, before releasing it from the form.
References
Resources
Writer Bio
Ingrid Hansen has been published in "Twin Cities Business" magazine, the "Murphy Reporter," "Twin Cities Parent" magazine and the "Southwest Journal" newspaper. She has also written more than 30 non-fiction books for the K-12 library and education market, and has been a subject matter expert and a course designer for online college curriculum. She teaches English Composition at a local college, and holds a Master of Fine Arts in creative writing from Hamline University.
Photo Credits
More Articles